2011 Weekly Volunteer Management News
Archive for 2011 July- Novemeber (Current News)
20 November: Emergen (http://emergen.com.au) is an online community for "emerging young leaders" in Australia, made up of over 1000 professionals aged 20-35. Along with online and in-person learning opportunities, it provides participants "the opportunity to develop their professional brand and reputation. Members can do this through blogging, being interviewed for Emergen TV or participating in our Awards program." They even provide Bloggers Training online.
One of Emergen's projects is "Blogging for a Cause Ebooks," the latest of which is a Tribute to the International Year of the Volunteer. This 60-page, graphically elegant document (using the issuu publishing platform) offers first-person accounts of different volunteer experiences, as expressed by volunteer bloggers. The contributors are diverse in all sorts of ways: culturally, ethnically, degree of involvement in volunteer work, and the types of causes they support.
The essays even tackle negative perceptions and controversies about volunteering, such as Jenny Geale's "Please Don't Pay Me" (pages 33-5), a wonderful account of the reactions she has encountered to her decision to engage in voluntary work full time.
As its title says, this book is a tribute to IYV+10 and is well worth reading – and passing along to both paid and volunteer staff in your organization. Upbeat and informative, this free resource is a celebration.
Thanks to Martin J Cowling (twitter.com/martinjcowling) of People First–Total Solutions for making us aware of this great organization and e-book.
13 November: As the European Year of Volunteering draws to a close, a flurry of conferences and special events have been taking place, including some for special audiences. On November 10-11, the Pontifical Council Cor Unum, which promotes and coordinates Catholic charity, brought together about 160 bishops and representatives of charitable organizations from 25 countries to discuss volunteering in conjunction with the European Year of Volunteering. Speaking at the event's closing session, Pope Benedict XVI said:
Through volunteer work, Christians become signs of God's love in the world . . . Especially at a time of serious economic crisis, moral uncertainty and social tension, Christian volunteers show "that goodness exists and that it is growing in our midst" . . . The pope thanked the European volunteers and "the millions of Catholic volunteers who contribute, regularly and generously, to the church's charitable mission throughout the world."
As he wrote in his first encyclical, "Deus Caritas Est" ("God Is Love"), the pope said Catholic charitable activity isn't simply philanthropy, it's a reflection of Christian faith and the obligation to love others as Christ loved. (Catholic News Service report)
A Romereports.com article and YouTube clip shows the Pope explaining that volunteer work is not only an expression of goodwill, but responds to a personal encounter with Christ, and that although Catholic volunteer organizations cannot meet all the needs that arise, this reality should not discourage them in their work for others. Another YouTube clip highlights Cardinal Robert Sarah, president of Pontifical Council Cor Unum and why they wanted to link with the European Year of Volunteering.
Another convocation of faith-based volunteering groups will occur on December 4-6 in Brussels, when the EAJCC (European Association of Jewish Community Centers, www.eajcc.eu) brings together Jewish service organizations in a "European Seminar on Volunteering."
EAJCC provides an ongoing forum to share information and promote inter-country communication, as well as lay and professional training, for all affiliated groups in Europe. Other partners for the conference are the American Jewish Joint Distribution Committee, Fonds Social Juif Unifié, Jewish Care, Jewish Volunteering Network and hosted by the Centre Communautaire Laïc Juif.
In September, the European Year of Volunteering task force on "Eurotowns Social Inclusion" held a meeting in Sweden to "exchange experiences and good practices in the field of volunteering and integration." A number of the sessions included discussion of minority populations, particularly Muslim immigrants, and how volunteering both benefits by and is a benefit to these groups.
6 November: Volunteer2 (volunteer2.com), provider of popular volunteer management software, has created another free online resource for the volunteer field:  the Mission Points ROI Calculator, designed to help measure the "Return on Investment" associated with engaging volunteers at an organization.
Most organizations value the contribution of volunteer time without assessing its true worth.  The concept that a report documenting more and more volunteer hours appears better does not take into consideration what gets accomplished during those hours – and what if that time was actually wasted?  Further, the most popular method of measuring the ROI of volunteer engagement is calculating the wage replacement value of the number of hours contributed by volunteers.  This simply furthers the questionable idea that hours equal cash equal impact.  
The Mission Points ROI model treats the number of volunteer hours consumed by an organization as an expense.  It also allows measurement of desired outputs and/or outcomes of volunteer work.  Tony Goodrow, president of Volunteer2 explains:
Viewed as expenditure, we would value volunteer time in the same way that we value money: we would spend only to the degree necessary, to best reach the mission of our organization. Consuming more volunteer hours might mean more gets accomplished – or it may mean volunteer time is being wasted….the Mission Points ROI model allows us to see volunteer contributions as an expense, and as a result of that, it encourages us to manage those valuable volunteer contributions of time more effectively.
Goodrow laid out the basics of the Mission Points ROI approach in an e-Volunteerism article last year: "Calculating the ROI of Your Volunteer Program – It's Time to Turn Things Upside Down,"   This launch of the Calculator in "alpha" mode moves his concept further and users are invited to help improve the tool over time.  How can you use the Calculator?
Compare the results of your volunteer engagement from month to month, quarter to quarter or year to year.
Compare the effectiveness of various volunteer roles that set out to accomplish the same Output.
Large organizations can compare the efficiencies between different locations.
Information on the Mission Points ROI concept, instructions on how to use the Calculator and ideas on determining certain values you will need to enter can be found at MissionPointsManual.pdf. Give the Calculator a try at www.Volunteer2.com/ROI. If you need additional assistance, there are consultants who can work with you to integrate ROI measurements listed in the appendices of the manual. If you would like to share your experiences using the Mission Points approach, e-mail Tony Goodrow at tony@volunteer2.com.
Volunteer2 also sponsors the free site, OurSharedResources.com, where volunteer management practitioners can share forms, manuals, and other tools in exchange with other colleagues.
30 October: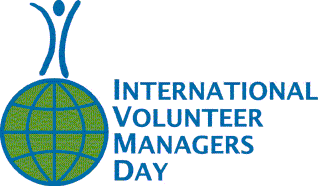 2011 has been a busy year for volunteering – it is IYV2011+10 and the European Year of Volunteering 2011, to name just two high profile campaigns.  And now once again we've come to International Volunteer Managers Day (IVMD) – 5 November – which has been building its own momentum.  Andy Fryar, chair of the steering committee for IVMD, reports:
 Already I am hearing of plans for events to mark the day and discussions online about how the publicity for the day can be used to help promote the importance of effective leadership and management of volunteers.  It is in this context that we (the steering committee) see 2011 as a year of consolidation for International Volunteer Managers Day. We have no major developments planned for 2011. Rather we want to concentrate on promoting what is already happening to mark the day and sharing that to keep the profile high.

You can participate by doing some concrete things:
Follow the day on Twitter and promote your plans by mentioning @IVMday in your tweets.
Get in touch with the organizers to share what you've got planned (or did) so they can promote it on the IVMD website.
"Like" the IVMD page on Facebook and post your plans or good wishes to colleagues there, too.
Rob Jackson Consulting, Ltd. has posted a "countdown clock" to IVMD, which is fun.
Where to next?
The committee is already looking at how the Day can grow in 2012 and beyond. Andy says:
Key to this will be the recruitment of new steering committee members. Our existing members have made an amazing contribution in recent years but many are looking to move on and we think now is the right time for some new blood to join the committee and take International Volunteer Managers Day forward into the future.
If membership of the steering committee for International Volunteer Managers Day is something you'd be interested in getting involved in we'd love to hear from you. Please send us an email outlining a bit of information about you, what you like about the Day and what one change or development you'd like to implement to take it to new heights.
This might be your chance to burst onto the international scene! 
Here hoping every one of you has a great International Volunteer Managers Day 2011.
23 October: No matter your political persuasion, looking at the Occupy Wall Street movement from a volunteer management perspective is an intriguing exercise. With images in the media of tattoos, piercings, and strange costumes, it's easy to pooh-pooh protestors as slackers with no direction. But look again. This uprising has similar features to the volunteer driven origins of many of today's main stream organizations.
Influenced by highly skilled, highly educated volunteer: Every social change action requires someone to get the ball rolling, whether it be the Tea Party, the March of Dimes, or the revolution in Egypt. David Graeber doesn't claim to be the initial instigator, but he appears  to have laid the "ground rules." There is also a YouTube video where David Graeber recounts the first night of protest as quite organized and not just "a few college students" getting together and deciding to camp out.
Self-governing structure in place: Although classifying themselves as a leaderless movement, they have a "horizontal governance structure in which committees tackle issues independently and then report back to the consensus-based General Assembly."
Has system for designing and screening of volunteer positions: The committee structure also implies a level of volunteer screening even if informal. To create committees, individuals must ask for volunteers and individuals must accept volunteer committee positions. Someone needs to say "who has such-n-such experience?" and someone needs to say "I do!" It's assumed that the general assembly needs to approve the volunteer "placement." This is more formal than the "grab-n-go" method of volunteer screening seen in some not-to-be-named organizations.
Volunteers advocate for the cause back into the community: As with any volunteer "program," volunteers take their message back into the community. When interviewed by local, national, and international media, individuals are not afraid to passionately explain the cause they are protesting for.  This has garnered some big support from outside parties.
As with any volunteer involvement, things aren't necessarily perfect. But there certainly are some basic bones evident for this volunteer movement to stand the test of time. At Energize, we will be watching closely for other signs of good volunteer management practices. One "best practice" we all will agree on:  Bring food and they will come!
16 October: Get Volunteering, www.getvolunteering.ca, is the national registry of volunteer opportunities for Canada.  It is run by Volunteer Canada with support by Manulife Financial.  They also have a presence on Facebook, where they are currently offering a 12-part "Get Volunteering Conversation Series" with the intention of "providing a place for users to discuss, promote and participate in volunteerism."
A cluster of people of various backgrounds are invited to open the Conversation with early postings (Susan Ellis was invited this week) and then anyone may add their comments.  The current topic, "Benefits of Volunteering," is the fourth in the series; it launched on October 12th and will run through the 17th, when a new topic will be posted.
All the previous Conversations are archived and can still be viewed.  Previous topics have been
"Volunteers in Politics"
"Can Canada Become a Destination for Voluntourism?"
"Is Volunteering in Our DNA?"
4317 people already "like" this feature (and the number went up by 5 more while this news item was being written!). 
One idea is to let volunteers themselves know about this Facebook forum and encourage them to post about themselves.  This resonates with the site's stated goal:  Get Volunteering is a site where you can learn about many exciting ways to give back, get inspired, and get in touch with the volunteer in you.
9 October: Last week a new neighborhood park opened in New York City called Planters Grove.  The New York Times described it as " Offbeat Corporate Giving: A Park Inspired by Peanuts."  It is a great example of a project that combines corporate philanthropy and volunteers to promote a business while meeting a list of large and small community needs. 
Planters, the snack nut brand owned by Kraft Foods, developed and paid for the new park at the Lillian Wald Houses, a 16-building public housing complex in the East Village.  According to the Times, Planters Grove "has an unmistakably peanut-inspired design, an effect created by the studied placement of poles amid beds of sage, rosemary and thyme" (see an artist rendering of the park).  Planters gains positive publicity while showing how a public-private partnership can benefit low-income neighborhoods.
It created useful, open space for an area without such amenities, at no cost to government.
Planters worked with Green City Force, an AmeriCorps program based in Brooklyn that recruits 18- to 24-year-old residents of public housing for intensive training and service opportunities in clean-energy fields.
The landscape architect, Ken Smith, put a rainwater garden under a boardwalk in the new park, which will reduce runoff and irrigate the plantings.
The park is filled with several kinds of edible herbs which residents are encouraged to pick and incorporate into their daily cooking.   Smith explained, "There's a real issue of access to healthy foods, so the ability to have plants that people can actually use is very important."  A neighbor commented that peanuts, too, are a healthy source of protein.
The herbs also have the payoff of not attracting rats – an early concern of the NYC Housing Authority – as apparently "rats don't like pungent herbs."
Of course, there are detractors.  A blog posting on The Village Voice Web site, "Parks Go Corporate With Planters Grove. Could Doritos Playground Be Next?", questions the corporate self-promotion.  But the benefits, and the involvement of both AmeriCorps and community volunteers, are evident.
5 October: The deadline for the survey focused on why there are fewer men in the volunteer management profession has been extended until October 15! Please see below (news item for 25 Sept.) for all the information and send completed surveys to gwen.stein12@yahoo.com.
1 October: Energize has just opened an Everyone Ready® Contest around this theme:
What would change if everyone in your organization was trained to work with volunteers?
Share your answer with us by October 31st and enter to win some great training and consulting prizes!
Just as it "takes a whole village to raise a child," it takes a whole organization to welcome volunteers and support their contributions. It's not enough for only the manager of volunteer involvement to have the skills needed to work with volunteers. We've designed our Everyone Ready Contest to benefit you in several ways. The contest will:
Help you envision what your organization would be like if everyone was prepared to welcome and work alongside volunteers.
Open up an opportunity (a.k.a. a good excuse) to discuss these possibilities with top decision-makers in your organization.
Give you a chance to win individual memberships to the Everyone Ready Volunteer Management Skill-Building Program, plus consultation time with Energize president, Susan Ellis, and other prizes to help you strengthen volunteer management skills.
Get all the contest details and enter by October 31st.
25 September: This week you can participate in a research project surveying leaders of volunteers about the scarcity of men in our field. Gwen Stein has been a volunteer manager for over 15 years in a variety of nonprofit and governmental agencies as well as President of Directors of Volunteers in Agencies (DOVIA) of the Pikes Peak Region, Colorado. She is also presently a graduate student in Organizational Communications at the University of Colorado at Colorado Springs (UCCS). Here is her message to you, with links to the survey questions – one for men and one for women (the survey is open to colleagues anywhere in the world).
Our job is challenging and rewarding – so why are there so few men choosing a career path in this field? This topic has intrigued me as well as the professors for whom I am conducting this research.
I would like to invite you to participate in a research study I am conducting at UCCS that I hope will gather insightful information in response to this puzzling question – and ideally create more awareness and interest in this growing career field to invite more male volunteer leadership. I am looking for honest feedback and observations that may explain why this phenomenon exists.
Responses to the surveys will be measured both quantitatively and qualitatively, to reveal what might be the common denominator from those male volunteer leaders who are working in this career field, as well as from female volunteer leaders who can offer their perspectives as well. I would like to get as much input as possible and would appreciate those of you who might take a few moments to complete a 12-question survey. If you would like to include your name, the organization you represent, and years you've led volunteers, please do so. If you would like to remain anonymous simply make sure to choose the appropriate survey to represent yourself as a male or female volunteer leader. I will be following up with the findings from this survey in early January 2012.
Download the survey for male leaders of volunteers here.
Download the survey for female leaders of volunteers here.
Respond directly onto the appropriate Word document survey form and e-mail your completed survey to gwen.stein12@yahoo.com by October 1, 2011. Extended to October 15!
PLEASE NOTE: E-mail address above corrected as of 9/29
Thank you for taking the time to invest in the future and growth of our career field!
Gwen Stein
We hope to help Gwen report her findings and thank you for helping with the survey.
18 September: Punchbowl (www.punchbowl.com) is a free site for start-to-finish party planning where hosts can design personalized online invitations, get party ideas, find party favors, and more. There is an option to upgrade to get access to premium designs, however all of features are included in the free version of the site. Not only are the services offered genuinely helpful in planning an event, the site also has resources volunteers might enjoy at any time.
One feature of the site is digital greeting cards with some really unique elements. They have look and feeling of traditional paper cards with the ease and immediacy of online correspondence. The recipient gets an animated envelope, which "opens" to reveal the card. There are hundreds of free cards to choose from and then you personalize your special greeting with accents like envelope liners, custom postage and rubber stamps – and of course with a written message from you and photos if you wish. Check out the page of digital thank you cards, which every leader of volunteers can use.
Another neat feature is the Reasons to Celebrate area of the site, which tells you special commemorative events around which you might plan a party. Apparently, the choices for September the 18th include National Cheeseburger Day and the 2011 Emmy Awards, while the whole week is National Singles Week and the entire month is both National Piano Month and National Organic Harvest Month. Who knew?
11 September: As the school year begins, the Center for Music National Service (MNS, www.musicnationalservice.org) has announced its plans for 2011-2012. MNS is a nonprofit organization that supports music as a strategy for public good. Through direct programs and public education, MNS "uses music as an intervention to address a number of critical social challenges. Music can inspire a child to succeed in school and life, soothe the sick and assist in the recovery of hospitalized patients, and strengthen communities of all kinds by bringing people together." MNS runs three signature initiatives:
MusicianCorps trains and places musicians to serve full-time as teachers and mentors in low-performing public schools, youth centers and other high-need community settings, using music to reengage youth in their academic and civic lives, and provide them critical skills for success in the 21st century.
Music Service Days bring musicians, non-musicians, students and parents, as well as corporate and community volunteers together for a day to improve music resources in schools and youth centers by renovating music rooms, constructing instruments, painting murals, and sharing in the power of music through performances and workshops at children's and veteran's hospitals, shelters, retirement and hospice residences and other locations.
ServiceArtist.net is an online learning community of musicians, educators and other practitioners of music as a strategy to reach, teach and heal, who share resources and work together to better lives and strengthen communities through creativity and service.
While MNS has received an innovation grant from the Corporation for National and Community Service and hosts Ameri*Corps participants, it has been an independent, volunteer-involving organization since its founding in 2007. Headquartered in San Francisco, the Center is also active in political advocacy for musician and artist contributions and has organized the Congressional Musicians Caucus.
4 September: 501Videos (www.501videos.com) is a video production company owned by Christopher Davenport, a successful documentary producer. His interest is in presenting his video production services to nonprofits and he's found a unique way to market his services that also provides useful resources. 501Videos offers a weekly series of free, short (3 to 5 minutes) videos called "Movie Mondays."
Although promoted as "for Fundraising Professionals" and focused on increasing financial donations, the videos cover many different topics, including board management, community outreach, and donor relations. For example, the topic last week was "The New Look of Board Meetings (for creating high performing boards)," dealing with how to prepare for and structure meeting agendas for more effective board interaction.
A new topic appears every Monday and that's the point. When you sign up, you get notices by e-mail of the new topic and log in for one week of access to the newest video. The comments section under each topic permits sharing of ideas among the subscribers.
Give it a try. Sign up at http://www.501videos.com/.
28 August: Sewa Day (http://www.sewaday.org), scheduled for September 25th, is an international day of volunteering "where thousands of good-hearted people across the world come together to experience the joy of giving (sewa) in its truest sense."  As the Sewa Day Web site explains, sewa, also spelled seva, is a word in the ancient Indian language of Sanskrit that means "an act of kindness without expectation…The term invokes a spirit of community and selfless service for a just and fair society."
 
It is a bit hard to trace the origins of this day of service.  The international site is sponsored by Sewa UK but you can select from a long list of other countries also commemorating the day.   Throughout the site are references to "Be the Change" (seemingly unconnected to the U.S.-based organization of the same name).  "Be the Change" was an annual event sponsored by SAALT (South Asian Americans Leading Together) to foster leadership and community engagement.  It was formerly known as the National Gandhi Day of Service, based on the values espoused by Mahatma Gandhi, and occurred during the weekend of his birthday (October 2). "Be The Change empowers participants to engage in collective civic action based on Gandhi's values of equality and compassion."  In 2003, ISSO-Seva formally joined SAALT's Be The Change movement.  
Despite the various origins and players, it is clear that Sewa Day is gathers together people with Indian and south Asia roots, as well as anyone wishing to do meaningful community service.  So check out the various Web sites and see if you can tap into any events occurring in your area.
14 & 21 August: The Minnesota Association for Volunteer Administration (MAVA) has once again produced a valuable resource for all of us in the volunteer field: a Toolkit for Recruiting and Supporting Job-Seeking Volunteers.
As described by Mary Quirk, MAVA's Volunteer Resources Leadership Project Manager:
MAVA was fortunate to [obtain funding from the Initiative Foundation] to do a project on the interrelationship between volunteering and gaining workforce skills. With all the encouragement that job seekers are given to volunteer we realized that there were few resources for organizations on how to make the most of job seekers as volunteers and how to best support them. We put together an advisory taskforce composed of both representative from workforce preparation organizations (workforce centers, tech schools, etc.) and leaders of volunteers, did focus groups and surveys and developed a toolkit and training curriculum.
The Toolkit – offered free of charge in online form – is packed full of ideas on how to maximize the benefits of job seekers as volunteers for both the individual volunteer and the host organization. As volunteering becomes an increasingly important means for job seekers to gain skills for employability and as organizations are seeing a growth in job-seeker volunteers, the materials at http://www.mavanetwork.org/jobseekers provide how-to ideas and share successful strategies developed by nonprofits and governmental organizations.
As always, MAVA provides a model for the potential of a strong professional association of leaders of volunteers to engage colleagues in producing valuable tools for everyone.
7 August: RealizedWorth, the consulting team of Chris Jarvis and Angela Parker, works with companies to design and implement outstanding corporate volunteering programs. Their blog, "Realizing Your Worth" (http://realizedworth.blogspot.com), discusses corporate social responsibility news and current issues, and gives valuable tips to program leaders.
In the past few weeks, they have been running a series of posts under the title "The Business Case for Employee Volunteering," presented with this rationale: Employee volunteering has the capacity to generate important value for your company and community. This blog series offers compelling reasons why your business needs to invest (a bit more) in employee.
The most recent post is Case #7 is "Value Generation." Here's a taste:
Despite the apparent self-interest of companies regarding employee volunteering, it is important to note that this self-interest is not at the expense of the interests of the public, but in collaboration with them. US companies intend to send nearly 2000 employee volunteers to 58 nations this year (up from just 280 in 2006). Stanley Litow, the President of IBM International Foundation views these 'citizen-diplomats' as something more than a means to making IBM more productive and profitable. These programs work toward a more civil society on a global scale, to the benefit of all.
The strategic importance of utilizing employees in local and international communities "for the benefit of all" is a powerful idea. Employee volunteering goes beyond the efforts of CSR strategies in its unique utilization of social capital. Corporate volunteering programs enable employees to mobilize their personal resources for broad social benefits.
The previous posts are:
31 July: TechSoup.org, the well-respected and invaluable site that provides "technology products and information geared specifically to the unique challenges faced by nonprofits and libraries," has been connecting technology experts and community organizations through volunteer consulting for a long time. Their TechSoup Community Forum, for example, permits agencies to post questions and get useful answers at no charge.
Building on that successful forum and connecting it to Twitter, TechSoup has just launched Donate Your Brain! (DYB) as a micro-volunteering initiative, allowing "anyone, anywhere, to help nonprofits and other community organizations with quick answers and suggestions for their Internet, software, and other tech needs." And they mean "anywhere" -- the service is international.
There's a full explanation of DYB at http://forums.techsoup.org/cs/p/dyb.aspx, both for how the project works for organizations and for volunteers. The community groups post to the Community Forum and tag their message with "DYB" – TechSoup staff regularly also tag appropriate questions and then post them onto Twitter using #TechSoupDYB.
Volunteers willing to donate their brains use their own Twitter accounts to:
…create and save a search for #TechSoupDYB. When you see a question you can answer, you can tweet your answer (tagged with #TechSoupDYB), or click on the link and go to the TechSoup forum to answer the question. You choose which questions you want to answer, whenever you want to answer them!
Alternatively, they can use a Linked In account to join the TechSoup Global LinkedIn group or stay informed through GoogleAlerts.
Even if you do not have a specific question for the DYB volunteers, you can browse the Community Forum and see what's being discussed.
24 July: With an animated roaring lion's head, Volunteer Ottawa wishes all Leos a happy birthday on their blog, on Facebook, and in other social media sites – but adds the twist of suggesting real volunteer opportunities in their database that Leos might find attractive:
You are a fire sign, born in the hottest month of summer. You are consumed with a zest for life and you are spontaneously creative. Overall you are driven to do well and you can carry this out because you are intelligent and strongly idealistic.
You are a born leader and as a volunteer you want to save the world and you probably will succeed! You are an excellent organizer and are great at laying out the groundwork for new projects and tasks. You also work well in teams as you can delegate and be diplomatic. When in need, people turn to you for advice and help. They know you are the king!
Volunteer Interest Guide:
You would be well suited in a volunteer position that involves:
community outreach,
event planning,
volunteering on a board of directors,
committee volunteering,
education, training & tutoring.
Do not hesitate to explore other areas, you are just getting started! To find you're a volunteer opportunity that suits your unique personality, customize your search on volunteerottawa.ca
As you might expect, they post a new Volunteering Horoscope each month. See the bottom of http://networkedblogs.com/kIXKz for links to the months that have been celebrated so far. Great campaign!
For another creative recruitment approach, check out Volunteer Arlington's Facebook message – capitalizing on the heat wave:
On hot days like this, did you know that you can volunteer from the comfort of your home or even the local ice cream shop? Art for Humanity is looking for administrative assistance and you can work from anywhere!
If you have a fun recruitment pitch or one that piggybacks on current affairs, why not share it with everyone in our Recruitment Insights Web area. The form is at http://www.energizeinc.com/forms/wisdom/input.php.
17 July: The Huffington Post, the popular daily online news site, has created a special section on "Volunteering" at: http://www.huffingtonpost.com/news/volunteerism/. With the great tag line, "Some News Is So Big It Needs Its Own Page," the site aggregates all its volunteer-related stories into this section, which itself looks like a large newspaper first page. Many of the entries are postings from regular blogs in the Post, which frequently publishes articles related to volunteering, philanthropy, activism, and more.
To give a flavor of the diversity of articles to be found, here are only a few items on the page at the moment:
You can subscribe to an RSS feed to keep current with the articles.
10 July: Travelocity (www.travelocity.com), the online travel booking site, has been committed to green travel and voluntourism for many years now, stating: "we believe we can make the world a better place, one trip at a time." Calling its effort Travel for Good®, the site has consistently looked for ways to be socially responsible. It identifies eco-friendly hotels, offers hybrid car rentals, and gives customers a way to purchase carbon offsets.
It has also given tangible support to voluntourism. Partnering with major voluntourism organizations, Travelocity offers eight "Signature Trips" each year, giving people the opportunity to travel to wonderful locations and do significant volunteer service once they get there. Right now the site features trips to Alaska, Washington state, Brazil, Tanzania, South Africa, Peru, Ghana, and the Amazon River. Partner organizations are Globe Aware, Cross-Cultural Solutions, Earthwatch Institute, and the American Hiking Society.
Most significantly, each quarter Travelocity awards two $5,000 voluntourism grants to deserving travelers. Prospective travelers engage in a contest to explain why they are most deserving of the opportunity.
If you've always dreamed of taking a volunteer vacation but couldn't afford it, apply for a chance to win a $5,000 Travel for Good voluntourism grant. Voluntourism gives you a chance to give back to the communities you visit on vacation--either for just a few days or even for a few months.
This grant will fund up to $5,000 for the transportation to, as well as the cost of, your voluntourism trip. Just choose a Signature Trip from one of our partners, make a video of two minutes or less, upload it to our site, and then send it around to friends and family for voting.
The contest is only open to legal residents of the United States – sorry! However, Travelocity has opened a new site, VolunteerJournals.com to allow anyone, anywhere to share their stories:
Travelers are acutely aware that the world is not a collection of different people and countries, but a global community where people rely on one another. And they understand that the gift of travel comes with a responsibility. At Travelocity, we applaud the men and women who give back to their local communities and the world at large.
VolunteerJournals.com is your place to share your passion for service with your friends and family. You don't need to take a voluntourism trip with us or volunteer abroad to use our site. Any volunteer is invited to enjoy this free, blogging platform to tell their story of service and create change around the world…You can also read the heart-warming stories of other volunteers.
Get started today and get your group involved in the causes you care about.
3 July: Instead of fireworks, we're celebrating July 4th (and also Canada Day) by sharing a great resource. Giveaway of the Day is a fascinating site with immediate benefits to visitors. Every day it gives away free licensed Windows software (usually for only 24 hours) that would otherwise have to be bought. These are full and legal versions of the software, not simply trials or limited versions.
Why would developers want to give software away? Because it generates reviews, comments, and buzz that ultimately help sell the product to others. The site explains:
Welcome to our unique software distribution initiative, which will provide you with an easy and risk-free method to build additional user base and spread your excellent software around the world.
Our initiative includes a complex of different services that will help you in informing potential customers about your software titles and promote them in a safe and reliable way.
Meanwhile regular site visitors get all sorts of goodies, some very useful to volunteer management and others far afield. Friday, July 1 featured "Picture Downloader"; the previous day it was "Secure My Files." Programs have focused on media and file management, scheduling, list management and more.
Visit the site or sign up for its RSS feed, Facebook app, and other ways to keep informed at http://www.giveawayoftheday.com/.
An international online journal to keep you current on trends, research, successes...
Learn more | Subscribe
Online training for individuals, organizations or corporations to work successfully with volunteers. Learn more