Back to Virtual Volunteering Archive Contents
virtual volunteering tag lines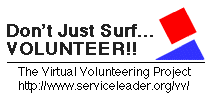 Above are two examples of VV Project logos and tag lines you can use on your web site to promote virtual volunteering, linking back to the Virtual Volunteering Project site . Various people have suggested many, many more, and these are all easily formatted with the VV Project logo:
Don't just surf -- VOLUNTEER!
Make your connection count

Volunteer Online!
Volunteer in your pajamas

(most preferred "jammies", actually)




Volunteer in your bunny slippers
Volunteer in your fuzzy slippers
Wear Your Pajamas to Work
Don't Just Lurk. Act!
Do Good from Your Desktop
Changing the world...

right from our desktops.
Click into Action
E-volunteers, Unite!
Save the world. Online.
Make the world a better place.

From your desktop.
Take one giant click for mankind.
Engage in a little

mouse to mouse resuscitation.
Sometimes virtual can create a better reality.
Volunteer without leaving your home!
Volunteer in your bathrobe!
Volunteer whenever you feel like it.
Night time, day time, anytime

is the right time for

volunteering online!
Helping out when your neighborhood is the whole world.
Volunteer....From Far or Near

 

Tired of just shopping online?

Volunteer online!
Online volunteers:

we can do it all night long.
Be a volunteer couch potato
Volunteers can do it -- ONLINE!
Got time? Got a computer? Volunteer!
Wired? Volunteer!
Give some of your surfing time,

Help others online!
Surf and Serve
Click & Serve
Download good deeds
Volunteer Online

and make a difference in the real world
Dare to care...volunteer online
Hands on, Feet up
Be an ISP!

(Individual Serving People)
Volunteers do it Virtually
Volunteers do it Virtuously
Do the right thing -- virtually!
Make a difference -- virtually!
Just because it's virtual

doesn't mean it's not real!
Take a break from "self-surfing"




Volunteer online!




I'd rather be volunteering online.



Back to Virtual Volunteering Archive Contents
Permission is granted to download and reprint this material. Reprints must include all citations and the statement: "Found in the Energize online library at http://www.energizeinc.com/a-z"