In the very first issue of e-Volunteerism: The Electronic Journal of the Volunteer Community (October 2000), we published the article, "Who Is Harriet Naylor Anyway?" -- largely because even then too many newcomers to the field of volunteer management had no idea who this pioneer was (though they kept hearing her name).  We continue to be concerned at the lack of institutional memory in our field and so have now made this article free to all <CLICK HERE>.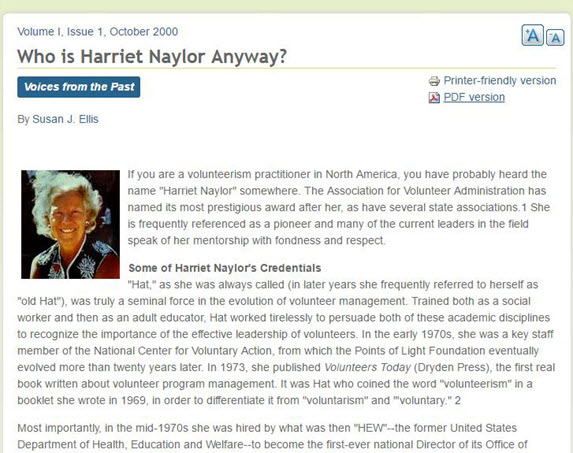 Although the Association for Volunteer Administration (AVA) no longer exists, we are pleased to share the names of the AVA Harriet Naylor Distinguished Member Service Award presented annually from 1981 to 2004.  This and the winners of other AVA awards can still be retrieved at Web Archive.
1981   Marion Jeffery
1982   Carol G. Moore; Marlene Wilson  
1983   Eva Schindler-Rainman
1984   Ivan H. Scheier
1985   Harriet Naylor; Sarah Jane Rehnborg, CVA 
1986   Sue Vineyard     
1987   Joanne Holbrook Patton   
1988   Winifred Brown, CVA    
1989   Susan J. Ellis     
1990   Christine C. Franklin, CVA
1991   Nancy Jane Barker
1992   Laura Lee Geraghty
1993   Caroline W. Todd
1994   Billie Ann Myers
1995   Katherine H. Campbell, CVA
1996   Jeanne Bradner 
1997   Jane Leighty Justis
1999   Betty Stallings, MSW
2000   Kathy McCleskey
2001   Jackie Norris, CVA
2002   Suzanne Lawson, CVA
2004   Jeffrey L. Brudney, Ph.D. 
Permission is granted to download and reprint this material. Reprints must include all citations and the statement: "Found in the Energize online library at http://www.energizeinc.com/a-z"