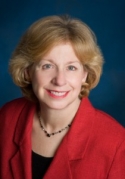 A respected thought leader on engaging employees through internal marketing, Sybil Stershic is the author of Taking Care of the People Who Matter Most: A Guide to Employee-Customer Care (WME Books 2007). She shares her expertise on her Quality Service Marketing blog, where she also interviews other experts and provides insight into the best ways to gain share of mind, share of heart.
Sybil is an accomplished speaker and business professional who helps service providers strengthen employee-customer relationships. She founded Quality Service Marketing in 1988, specializing in internal marketing and mission-focused/customer-focused staff development. She also teaches marketing fundamentals and conducts workshops nationwide for nonprofit and corporate managers.
In addition to her professional work, Sybil has been active as a volunteer leader in local and national nonprofit organizations, including serving as Chairman of the American Marketing Association.