September 2014
Finding the right volunteers has always been a priority – and the basic principles of recruitment never change. Susan shares ten timeless recommendations we shouldn't neglect.
read | listen | podcast | 3 responses: 10 September


Feature Article
Former volunteer coordinator: "We used to accept pretty much anyone who was warm and breathing as a volunteer." Former volunteer: "Yes, and we volunteers never quite knew what our day would look like or involve, until we arrived and waited to be handed our jobs!" Australian pioneer Louise Rogers reflects...
Full Issue | Archives | Subscribe

Online training starts October 20
Trainer: Susan J. Ellis (for the late Ivan H. Scheier)
One of the most critical issues in volunteer management is how to get employees and volunteers to be more enthusiastic about and supportive of each other. This Guide, originally written for Everyone Ready by the much-missed Ivan Scheier and now updated by Susan Ellis, examines the root causes of possible tension, acknowledges the employee perspective, and offers a process for building teamwork....learn more
Extensive library of materials about how to start and coordinate strategic volunteer engagement in any context. Browse dozens of how-to and overview subjects, each of which provides:
Articles
Book Excerpts
Free guides and reports
Web sites and blogs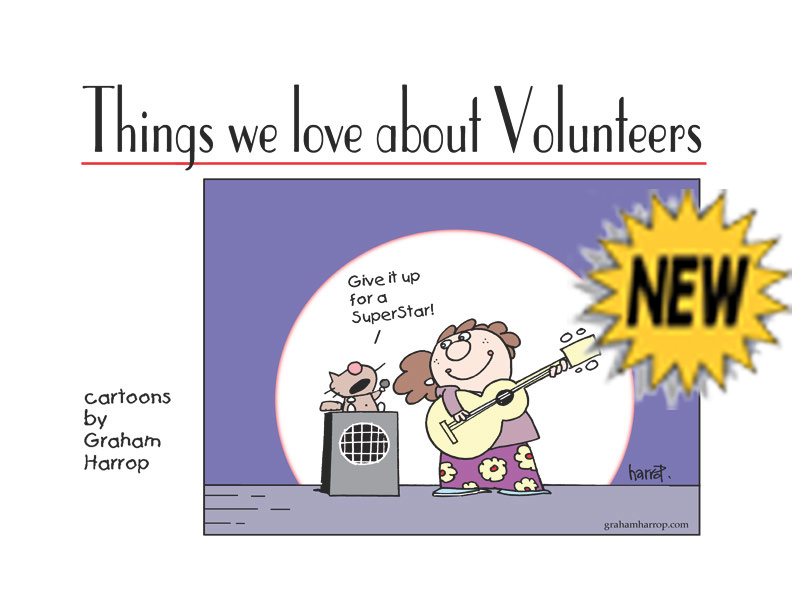 Things We Love About Volunteers
Twenty-five full-color cartoons that celebrate the commitment and compassion of your volunteers. Show appreciation to volunteers in a fun, humorous way.
Privacy Statement | Contact Us
[Resource Library] [Hot Topic and News] [Events, Courses and Awards] [Sources for Info and Exchange]
[Quotes and Collective Wisdom] [Product/Service Providers] [Jobs and Internships] [Bookstore]
[Search] [About Us] [Site Map] [Home]
[For the Media/Press] [Stay Informed]
Follow us:
Sign up for our monthly Volunteer Management Update:

Energize empowers and inspires leaders of volunteers worldwide.  Our specialty is creating and selecting the most relevant, innovative resources in volunteer management.  We're advocates for the power of volunteers and for the recognition of the leaders who unleash it. About Us

Other Sites: e-Volunteerism | Everyone Ready | Bookstore