Energize has received praise for its services from many sources and maintains a file of testimonial comments from clients and colleagues.  Occasionally we are honored in a special way.  Two examples are this letter from Project Linus NJ and the BetterWorldHeroes Web site, which has included Susan on their calendar of "heroes" for December 5 (International Volunteer Day).
When we celebrated our 30th anniversary, we asked friends and colleagues to sign our birthday card and received over 200 postings! Below are some of the lovely things they said.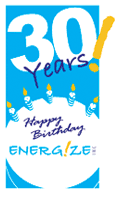 I have just recently heard about your site at a volunteer coordinator's meeting and I love it. Thanks for the tips and information.
Jerry Rengering, Ascension Hospice,
Volunteer / Non Profit Program Coordinator, South Carolina USA
Energized! That's what you help us all to be! Happy birthday and thank you for all you and your team do to keep us all informed and on our toes.
Susan Pronk, Saint Marys Hospital/Mayo Clinic
Volunteer Coordinator, Rochester, MN USA
Happy Birthday and best wishes for the future.
Sheneze Adams, Baruch College/CUNY, Student, New York,NY U.S.A
Congratulations, and thank you for leading the way!
Kerri Emberlin, Canadian Blood Services
Recruiter, Volunteer Resources, Hamilton, Canada
Thank you to all doing such a great work to keep us all informed, representing new ideas and very good and helpful informations, special for novices like me. I wish you all the energy to keep up your good spirit for at least the next 30 years. HAPPY BIRTHDAY.
Carola Stadler, Kid's Cancer Found., Volunteer
Calgary, AB
Congratulations Susan and the team at Energize. It was a great pleasure to meet you when you ran a workshop in Wellington in April 2005. You are inspirational and dynamic and I have found the energize website an excellent and valuable resource. Well done.
Julie Thomson, Volunteer Wellington
Wellington New Zealand
Thank you so much for sharing your 30 years of experience!
RK - Wisconsin Rapids
"Bravo" you are an inspiration for all of us. Thanks for being such a "Great Leader." Now get down and party!!! Don't forget the tie dye.
Linda Jahns, Wisconsin Volunteer Coordinators Association President, Wisconsin, US
What a great resource and I am glad that you are always looking for was to enrich our volunteer programs.
Joy Bales, Palm Beach County Division of Emergency Management, Volunteer Coordinator West Palm Beach, FL USA
Susan has always been ahead of the curve and has always had my admiration. She and Energize are without parallel. Best wishes to the team that makes it all possible.
Mitzi Bhavnani, Former editor-in-chief, AVA's The Journal of Volunteer Administration
Thirty years? Tell me it's not so! I guess I've only known you about 21 of those so at least I'm legal! Congratulations for always being clear, concise and unafraid to buck the opposition. You have held your head up high making "volunteerism" more than just a nice little thing to do. I'm so fortunate to journey along life's way knowing you. Keep up the good work!
Eileen Cackowski, KCCVS, Executive Director,
Frankfort, KY USA
Thank you for always being OUT THERE for all of those in our profession - saying what needs to be said, keeping our history and being a part of our future.
Susan Herbert Timmons, Virginia, USA
Aloha, Susan: You and Energize have been an inspiration to me and the Volunteer Resource Center of Hawaii...more than you realize. Your advice has been invaluable; we find your bookstore very convenient (although we prefer hardback books in our library rather than electronic); and use your text "We the People" in our CVM class. We look forward to more successes for Energize because you're our lifeline. Mahalo!
Mary Matayoshi, Volunteer Resource Center of Hawaii, Executive Director, Honolulu Hawaii
I'm afraid it's a little late but very best wishes to Energize on its 30th birthday. I first attended a session by Susan in London in 1994 and have made use of many of the things she suggested ever since. I have worked with volunteers now for over 20 years and love it. It was great to listen to Susan at the recent Tools of the Trade conference, you're still as inspiring as ever. All good wishes.
Michele Le Sueur, Volunteer Centre
Volunteer Co-ordinator, Reading, England
The world of volunteering would not be what it is today without Susan and her Energize! Many thanks especially for all your international contributions!
Christer Leopold, Voluntarius - Voluntary Strategies Consultant, Uppsala Sweden
Happy Birthday from Alaska. I continue to use your website as a resource, and have fond memories of you taking me on a tour of Philadelphia before the America's Promise gathering. You continue to touch many lives and at many levels. Thank you, thank you, thank you...
Brenda Holden, Information Insights, Senior Consultant, Fairbanks, AK
Happy Birthday, and congratulations on 30 years of informing, resourcing and stimulating voluntary organisations not only nationally but internationally too. You helped create a real focus on volunteer management in the UK at a time when we needed that support, and generously contributed much to spreading the word about good practice in volunteer management.
Fraser Dyer, My Working Life.com,
Writer and Consultant, London United Kingdom
Happy 30th Birthday to a fantastic mentor, resource, colleague, and friend to all of us in the field. KUDOS to a professional life well-lived!
Donna Phillips, CVA, Washington County Sheriff's Office, Manager of Volunteer & Intern Resources
Hillsboro, Oregon USA
Susan, it's been years since we met at the Annual American Tennis Association Training in North Carolina. Congratulations on your 30th year Celebration. Happy B-Day to everyone at Energize, Inc. Sincerely,
Dee Mayfield, Dee-Stress With Dee, Author, Trainer, Speaker, Jacksonville, IL U.S.A.
Thank you for being such a great web site. I am new to the computer world. I started using the internet last October. I am an AmeriCorp VISTA Member, and most of my position requires me to be on top of the various means of recruiting and retaining volunteers for the 50+ agencies under Volunteers of America, Dakotas. Happy Birthday.
Cheri Lehmann, Volunteers of America, Dakotas
AmeriCorp VISTA Member, Sioux Falls, SD USA
Susan, Congratulations on 30 productive years! You continue to inspire and assist volunteers and managers all over the country with your tips and insight into the world of volunteerism. I have always enjoyed attending your trainings and reading the site. I have also referred many people new in the field to your site. Keep up the great work!
Amy Brown, Coordinator of Volunteers, Council for Older Adults of Delaware County, Delaware, Ohio
Happy Birthday, Susan. I second all the best wishes on this website, you truly have inspired all of us to go forth and do good! I can't begin to tell you how often I referred to your writings when training new volunteer managers both here at the Red Cross and at other organizations. Keep up the good work, Susan..we need you!
Rita Chick, American Red Cross, Chief Human Resources Officer, San Francisco, CA
Happy birthday and congratulations to you and the entire Energize staff for 30 terrific years. Great new image at 30! If Bailey's ice cream were still in existence, I'd celebrate by treating you to another one of their fabulous overflowing ice cream sundaes. That was more than 30 years ago at the first Boston conference in 1975. Thank you for championing the field, putting resources at our fingertips, training, training, training, and challenging - often challenging the field to be better. Looking forward to more to come and seeing what Energize will look like at 50 or 60!
Vida E. Poole, Mystic Valley Elder Services, Inc., Director, Community Programs, Boston, MA USA
Congratulations are in order, BUT we, the suscribers, should be patting ourselves on the back and thanking our lucky stars to have such a great resource at our fingertips. Thank you so much.
Sue Irey, City of Carlsbad, Community Volunteer Coordinator, Carlsbad USA
Congratulations Susan for being such an unforgettable, irreplaceable and vital person and friend.
Joy Noble, Volunteer, Adelaide Australia
Thank you for your support with "energizing" our volunteer efforts. We look forward to working with you in the future.
Gail Thompson, Youth at Risk, Director of Volunteers, New York, NY US
Susan - Congratulations on your 30th birthday. I have used the Engergize, Inc. resources & information almost from the beginning of your organization. Here's hoping for many, many more years of sucessful networking within the
nonprofit/volunteerism sector. We have all "come a long way Baby."
Kathy Oddis, Eastern Shore Hospital Center, Director, Volunteer & Ancillary Services, Cambridge, Maryland USA
CONGRATULATIONS!!!
Thanks for "Championing" our profession. You've helped in us sooooo many ways.
Paulette Davidson, Brevard County Government, Volunteer & Intern Coordinator, Viera, Florida USA
Happy Birthday!
Maggie Odle, Nashville Humane Assocaition, Volunteer Coordinator
Nashville, TN USA
I've been privileged to "know you" for only the past fourteen years of your "life", but you have been a great source of information and inspiration to me throughout my journey as a volunteer director...the very best job one could possibly want to have. Thanks so much and HAPPY BIRTHDAY!!
Valerie Grohne, Decatur Memorial Hospital, Decatur, Illinois U.S.A.
Congratulations and Happy Birthday. I know that volunteerism is better off for all of your work and dedication! Wishing you 30 more.
Jan Hann, Alzheimer's Association,
Director of Leadership and Training,
Chicago, IL USA
Congratulations Susan and Staff on 30 great years! I've appreciated all the resources from Energize, Inc. over the years. You have always been on the cutting edge! May you have continued success in all that you do.
Cathy Dyball, CVS, Program Manager, Stillwater, MN USA
Happy Birthday, ENERGIZE, and energize is in fact what you have done for our
field. Add to that organize and humanize, the sense of family working together. Thanks you so much. And again HAPPY BIRTHDAY!!!
Ivan Scheier, Truth or Consequeces, NM U.S.A
Happy Birthday Energize! Thank you for all the great work and resources over the years. We couldn't have done many of our programs without you. Can't wait to see what you do in the next 30 years! :)
Betsy McFarland, The Humane Society of the United States, Dir. of Communications, Washington, DC USA
My party hat is off to Energize! Congratulations for your unparalleled leadership for the volunteer sector worldwide!
Judi Reed, Chinook Health, Director Volunteer Resources, Lethbridge, Canada
Happy Birthday, Susan!! You inspired me and informed me during my career in volunteer management--and you are keeping me up-to-date on current issues and trends in my retirement. I still am passionate about our profession and continue to keep involved in it as a volunteer and consultant. I look to Energize to keep me energized.
Joyce Conner, Consultant
Kettering, OH USA
Congratulations! All the networking and wonderful ideas have been a big help in working with our volunteers.
Beverly Zweig, DePaul Center, Office Manager, Dayton, OH USA
Happy birthday! All the best for the next 30 years! Good wishes for your great, helpfull and inspiring work and greetings from Germany!
Thomas Kegel, Academy of Volunteering Germany, Berlin, Germany
Yea to Energize!!!!! thanks for being there keep adding those candles...
Judy Swinson,CAVS, Director/Volunteer Services, Mt. Vernon, Illinois, US
To all of the Red Cross Volunteers and other organizations all the best. If we ddin't have the volunteers helping in military hospitals, military posts, and city organizations giving freely of their time life would not be fulfilling. When you give you receive ten-fold. Happy birthday, let's party...
Tom Pardee, American Red Cross, Chair of Volunteers, Colorado Springs US
Very best wishes Energize on this marvellous achievement, Susan we have really enjoyed having you in new Zealand you really do inspire!
Best wishes from team at Volunteer Services at the Royal New Zealand Foundation of the Blind
Alison Marshall, Royal New Zealand Foundation of the Blind National Manager Volunteer Services
I entered the volunteer management field a short 3 years ago and have found the Energize website an invaluable tool. I feel as though I have the best resources (educational, mentoring, leadership, training, etc.) right at my fingertips! Thanks, Energize, for making such a commitment to our profession and continuing to stay on the forefront of information and technology :)
Kristine Ruggles
Vanessa Behan Crisis Nursery
Director of Volunteer Services
Spokane, US
Wishing Energ!ze many more years of successful sharing!!
Kip Jochum, American Red Cross, Greater Cleveland Volunteer Leader,
Mayfield Village, OH, USA
Energize Team: We offer you many smiles and happy thoughts as you celebrate this milestone. Congratulations for a job well done and for allowing us to travel part of this trip with you and for helping us bring training into the lives of Red Cross volunteer managers and leaders who might otherwise not have the opportunities. Happy Birthday and many more to come! Cyndy, Bruce and the ONCOV Staff
Cyndy Humble, American Red Cross,
Volunteer Resources Management,
Washington, DC USA
Wow, what a milestone - congratulations on providing such a relevant and interesting website!
Casey Eckert, Keep Plano Beautiful,
Education Coordinator, Plano, TX USA
Thank you Susan for all you have done for volunteer management. I would of never have made it with out Energize, Inc. as a new volunteer manager. You have given me all the information I need over the last 10 years. Thank you!
Beverly Hogue, Campus Crusade for Christ, Volunteer Services Team Leader
Orlando, FL USA
I've loved your site! Your name is perfect as the information is always energizing! thanks!
Judy, Fletcher Allen Health Care, Burlington, VT USA
A volunteer is the most wonderful person to have around. For me, I need my employees to have a volunteer spirit - and that makes for a wonderful company...
Christa Chidrawi, LifeLine Southern Africa
South Africa
You and the energize staff are so very helpful and provide excellent customer service. How time flies since I can't believe you are celebrating 30 years but everything just keeps getting bigger and better.
Pat McCarthy, Northland Public Library
Mgr/Vol Svcs, Pittsburgh, PA USA
Energ!ze Inc. has saved my professional life on more than one occasion by giving me expert advice and resources all located in one place. Happy Birthday!!
Marge Galla, University Hospitals, Case Medical Center Coordinator, Cleveland, OH
We met at an AJLI(Assoc. of Junior Leagues International) meeting in Atlanta years ago... I was inspired then and continue to find your resources most helpful on my volunteer journey....
Mary Pat Berry, Madison, WI
You're at the top of my favorites list!
Congratulations and keep up the great work!
Linda Sommerville, Child and Family Services of Northwestern Michigan, Director of Volunteer Relations, Traverse City, MI USA
Susan, Congratulations and Happy Birthday! You are truly one of the top leaders in Volunteer management. I have greatly benefitted from your products and you for many years. You are truly amazing in what you have accomplished for all of us in the field of volunteer management and I thank you for that. May you have many more years of success. Your friend,
Ronda Bollwahn, Lt. Colonel
The Salvation Army, Volunteer Consultant
Los Angeles, CA USA
Susan is a visionary who inspires as well as educates. Her passion for volunteer management is contagious, because I caught it!
Nina Garcia, American Red Cross
Manager, Volunteer HR, Phoenix, AZ
Happy Birthday - what would we do without you? I feel like you are a long time friend. Energize - this is what you accomplish with every issue. So informative and helpful. Thank you for all the "Frosting" that you make available to us every month. You are so special.
Caroline, Inland Hospital,
Volunteer Director, Waterville, ME
Happy birthday! You are such an inspiration not only to leaders of
volunteers internationally but also to women. We are so fortunate to have
you and Energize encouraging all of us. Thanks for the compassion and commitment.
Shirley E. Burgess, United Way of Central Iowa, Volunteer Engagement Director
Des Moines, Iowa United States
Happy. Happy. Joy. Joy.
And many more!
Sharron Jarmon, Goodwill Industries of North Louisiana, Outreach Job Placement Specialist, Shreveport, LA USA
Congrats on 30 years of service to the volunteer management community. I have enjoyed this resource for a number of years. Keep up the excellent work.
Vince Stemple, the Blood connection, Inc.
Dir., Volunteer Connections
Greenville, SC USA
There was a slogan used by the state that said, "You've got a friend in Pennsylvania". Indeed we do and she is Susan Ellis. Through good times and rough waters, Susan and her team were there to assist. Susan taught us how to "think out of the box"; to not let something stand in the way. Susan showed us that we always have options - go through it, around it or over it. Thank you for "energizing" us always. Your passion and commitment to the profession helped to make a fellow Pennsylvanian, and countless others in the world, empowered volunteer leaders. Congrats!
Irene Dailey, Sewickley Valley Hospital,
Director, Volunteer & Community Svcs.
Sewickley, PA USA
Congratulations and Happy Birthday.
Helen D. Thornton, East Texas Center for Independent Living, Independent Living Resource Coordinator, Tyler, Texas USA
Thirty looks excellent on you, Susan! I love the "face lift" - new look, new logo, new color scheme - vibrant and accessible. :-) My very best wishes to you and everyone at Energ!ze for many, many more birthdays!
Connie Pirtle, Strategic Nonprofit Resources, Founder & Director
Washington, DC USA
Happy Birthday Energize from little me in Hull, East Yorkshire, England. I have been a Voluntary Services manager for over 8 years working within the NHS and I have been lucky enough to hear Susan talk in person, and it was very inspiring. Keep up the great work.
Fiona Skerrow, Hull and East Yorkshire Hospitals, NHS Trust Voluntary Services Manager, Hull, England
Energize has been a great resource. Thanks for all your great ideas and tips to attract and welcome new volunteers and retain the current volunteers we have. Your organization is amazing and shows great results ....Happy Birthday!
Tina Heim, Wendell Watson Elem., Volunteer Coordinator, Lakeland Polk
I'm fairly new to Energize, but I see that you've done some GREAT things over the years and I plan to look to you more and more for volunteer resources. Happy Birthday!
Jean Kincaid, MSSCA, Executive Director, Wasilla, Alaska USA
May you live 100 years!
Jane Howe, Darlington, MD USA
Congratulations Susan. Your passion for the field of volunteer management is nothing but inspiring to me. I can always count on you for the latest information and thought provoking (or should I say poking) ideas. You keep all of us on our toes. I look forward to seeing you!
Wendy Biro-Pollard, CVA, Training and Consulting Solutions, Austin, Texas
Congratulations on your 30 years of outstanding, creative, intelligent leadership and sharing. You never let things get dull! It would be impossible to guesstimate how many programs and lives you've touched. It's my pleasure to have known and worked with you so many years. You've helped make me better at what I do.
Joan Brown, County of Marin, Volunteer and Programs Manager, San Rafael, CA USA
Congratulations on reaching such a milestone - may you go from strength to strength over the next 30 years. Have a great party - cheers and best wishes.
Vivienne Barker, Southern Volunteering (SA) Inc
Executive Officer, Adelaide Australia
Happy Birthday to Energize and congratulations to Susan whose insights have energized me after I switched to my second career! Energize became my online mentor and was always there for knowledge or inspiration. May Energize continue to inspire and develop volunteering and the volunteer management profession for many many more years.
Jo Ann Drueke, Madonna Rehabilitation Hospital, Manager, Volunteer Resources, Lincoln, NE USA
Congrats, Susan, and all at Energize. You're the best in the world and we love that you're there. I visit your site often and tell everyone about it. Happy big birthday. I'll have a drink in your honour tonight!
Linda Graff, Linda Graff And Associates Inc., Dundas, Ontario, Canada
Wow what a wonderful accomplishment to make it to 30 years and to continue to grow in strength, giving and sharing of wisdom. I send my thanks to all those who have got this to 30 years. Alot of blood sweat and tears, joy and happiness,and genuine hard work. You are all appreciated and will be appreciated in the years to come as well.
Sybil Williams, Cancer Society Manawatu Centre Inc, Volunteer Services Coordinator, Palmerston North New Zealand
Happy Birthday! I discovered your organization just within this past year. Your insight and tips have already been a great help to me as a new volunteer coordinator. Here's to many more years of growth and innovation!!!
Marion Putman, Center for Abuse and Rape Emergencies, Volunteer Coordinator, Punta Gorda, FL USA
Way to go!!!!!!! 30 years and just getting better
Patt Louchuk,Falcon Lake Manitoba Canada
Congratulations to Susan and Energize! Susan was one of the first presenters I ever learned from, and I remember being in total awe!! Now I'm proud to call her a colleague and a friend. Happy Birthday - many more - love the new look!!
Jackie Norris, Metro Volunteers, Executive Director, Denver, Colorado USA
Happy Birthday Energize, keep up the good work!
Kay Norris, Christchurch, New Zealand
Dear Susan and team: Congratulations. You are one organization that we can all still trust, even if you ARE over 30! Best, DAVID
David Warshaw, Vistas Volunteer Management Systems, Principal, Ho-Ho-Kus, NJ USA
It is so important for volunteer managers to be able to communicate with one another and to learn the news in the field. Keep on doing the great work.
Brenda Greenberg, Northern Services Group,
Director of Volunteer Services, Monsey, New York USA
Congrats on 30 successful years. This Website is a great resource for me. It keeps me current, gives me ideas and reminds me every time it shows up in my Inbox that there are countless ways to keep the job challenging, fresh and enjoyable! Thanks for all the great work and look forward to 30 more!! (Not to mention seeing you at the Canadian Administrators of Volunteer Resources conference in June, Susan!!)
Karen Howe, Vancouver Aquarium, Manager of Volunteer Services, Vancouver BC Canada
Congratulations Susan and Energize, Inc! Keep up the fine leadership, open communication and exciting topics.
Terry Straub, U of MN Extension -- Hennepin County Master Gardeners Program, Coordinator, Eden Prairie, MN USA
I've only been in the volunteer management profession for 7 of your 30 years but have benefited tremendously from the Energize, Inc. Website and newsletters. Happy 30th.
Beverly Taulbee, CAVS, Saint Luke's Northland Hospital, Manager of Volunteer Services, Kansas City/MO USA
Congratulations to the entire staff at Energize. You offer a World of knowledge to those of us in the field who often work relatively isolated from what is going on with others in volunteer management.
Susan Dixon, Volunteer Center of Gloucester County, Executive Director, Sewell, NJ USA
Happy Birthday!
Karen Haber, Ocean's Harbor House
& In-Kind Resource Coordinator, Toms River, NJ USA
Congratulations, Susan and the Energize Gang. Applause, applause, applause for the wonderful work that you do. You keep our volunteers going strong!
Janet Beebe, Cornell University, Coordinator
Ithaca, NY USA
Congrats on your 30th! I can remember coming to one of your workshops when I was a volunteer in the 80's in Dallas. How fortunate to learn from you, the volunteer "guru" as you were warmly nicknamed!
Janine Pulman, Jewish Family Servicem, Director, Volunteer Service, Dallas, TX USA
Energize, thank you for thirty informative years. Susan Ellis is a champion of volunteers and volunteer administrators. I wish thirty more years of success!
Barara Vesey Johnson, Atlanta Children' Shelter, Volunteer Coordinator, Atlanta, Georgia USA
This is my first visit to the site, but I would like to wish your organization a Happy Birthday.
Willene, America's Second Harvest of Tampa Bay
Hayward, Tampa USA
Happy Birthday Energize! I look forward to the next 30 years with you!
Julie Sacharko, SPAN, Volunteer Coordinator, Denton/TX USA
Thirteen hundred volunteer applications are coming across my desk,
Trainings to do, crime checks to run, Oh Lord, I sure am stressed.
The phone is ringing, there's articles to write, How I wish for peace and quiet!
And it's only the first day of school.
Does this sound familiar to anyone out there in volunteerism land? Thank goodness Energize is there for us - giving us help, tips, and wonderful resources. Thanks Susan and all your staff for your dedication to volunteerism.
Happy 30th .
Nellie Gooden, Barren County Schools, Director of Volunteers, Glasgow, KY U.S.A.
Congratulations on 30 years of excellent information. We appreciate your help and support.Mandy Lewis, American Red Cross, Volunteer Services Supervisor, Oakland, CA
Just wanted to say Happy Birthday, and wish everyone there continued success throughout the upcoming years. I am relatively new to the volunteer management world and was so thrilled to come across this site. Keep up the good work.
Maggie Kalar, Kern County Animal Control, Marketing & Promotions Associate, Bakersfield, CA USA
Here's to the next 30 years! You've done a great job and fulfill a need for those of us who lead volunteers as paid or unpaid Volunteer Coordinators. CONGRATULATIONS and HAPPY BIRTHDAY!!
Gilda Kaplan, Vail Police Department
Volunteer Coordinator, Vail, Colorado USA
Happy Birthday to our international advocate!
Sarah Brown, Girl Scouts of Swift Water Council, VP Program Services, New Hampshire USA
Congratulations and Happy Birthday to you and Energize for 30 wonderful years of sharing your resources with us! I loved hearing you at the ASDVS conference in Philadelphia. Here's to another 30 years!
Vicki Holcombe, CAVS, Memorial Hermann Baptist Hospital, Director of Volunteer Services,
Beaumont, Texas USA
I became familiar with Energize early in my career (over 25 years ago) and it was one of the first sites I bookmarked when the internet became an everyday tool. It remains a favorite site for accessing the latest information. I love the bright new look, too! Thanks for sharing your expertise with the world.
Marti Sowka, Portage County RSVP, RSVP Director, Stevens Point WI USA
Susan: A special thanks for all you do to make our jobs a little easier. Happy 30th!
Suzanne Fain, University Medical Center of Southern Nevada, Director of Volunteer Services, Las Vegas, Nevada USA
Congratulations to Energize! This is the main resource to keeping me informed, re-charged, enlightened and it thrills me to see you keep getting better! Way to go!
Janica Fisher, SW Communities Resource Centre
Volunteer Specialist, Calgary/ Alberta Canada
Great work ! You've got wonderful ideas and a great way to educate our new volunteer managers here in the Heartland of Nebraska!
Jill McMahon, Catholic Social Services, Volunteer Services Program Coordinator, Hastings, Nebraska USA
Congratulations and thank you for all you've given to so many.
Gabriela duran lopez, hollywood presbyterian medical center, director volunteers & patient relations, los angeles, ca usa
Happy Birthday to Susan and all the staff of Energize! Your site is very informative and helpful and I look forward to your e-mails every month. Way to go and keep up the good work!!
Mirna Sherberg, Fresno Philharmonic, Volunteer Coordinator, Fresno/California USA
Happy Birthday- I have enjoyed your articles- they have given me great insight for the daily interactions with volunteers.
Melissa Mott, Van Duyn Home and Hospital, Volunteer Services Supervisor, Syracuse, NY USA
Susan, sixteen years ago as a new Volunteer Coordinator I signed up for one of your workshops. You have been my mentor and guide from the outset! Now-a-days I "introduce" you to new VAN (Volunteer Administrators' Network) members as being a very important resource for their exciting adventure as leaders of volunteers. Thank you!
Christine McMeans, Nashville Public Library, Volunteer Coordinator, Nashville, TN USA
Happy Birthday Energize!
Liz Havu, Southern Maine Agency on Aging, Volunteer Coordinator, Mane USA
Energize, congratulations on your 30th year! As a Volunteer Manager, I am so grateful we have you and I celebrate every year you have been in existence. You have helped me in so many ways. I have learned to be a better manager through the years with the pearls of wisdom you have shared. I refer to you first whenever a question or situation comes my way that I need help with! Happy happy Birthday!
Joan Dougherty, Rose Brooks Center, Manager, Volunteers and Community Support Kansas City, Missouri USA
God's Greatest Blessings!
Dr. Gary L. Pawlitz, Immanuel Lutheran Church,
Minister of Service, Macomb, MI USA
Thanks for all the resources you have provided over the years.
Danilo Minnick, Literacy Partners, Inc., Director of Volunteer Services & Student Recruitment New York, NY USA
Many congratulations to Susan and the team at Energize! What an excellent name you chose at the beginning - still energizing and sharing your enthusiasm with the volunteering world after 30 years!
Heather Allen, Volunteer Centre Dacorum, Manager, Hemel Hempstead UK
Happy Birthday to all those who Energize volunteer administrators around the world ! Your support and inspiration over the years has carried us through the highs and lows.
Kate, Como Park Zoo and Conservatory, Volunteer Coordinator, Saint Paul, Minnesota USA
Susan, Congratulations on 30 years of relevant research, engaging essays, timely tips and inspirational information on volunteering. Thanks for your contributions.
Cindy Vizza, Points of Light Foundation & Volunteer Center, National Network Editor, Volunteer Leadership, Washington, DC USA
Congratulations and thank you for your sincere and thoughtful support and assistance to those of us in the trenches of administering volunteer services on a daily basis all over the country and in all kinds of organizations and circumstances. Here's to another 30 years!
Sara Minkoff, Friends of the Arboretum, Manager,
Madison WI USA
Happy Birthday to Energize, Inc. and to Susan and staff- Susan you have been a friend and role model for me and I applaud all your work. Energize has been helpful to me as a volunteer resource professional and also in my teaching and training. The opportunity for my students to learn begins at this site. Thanks and congratulations.
Sarah (Sam) Elliston, New Thought Unity Center,
Involvement Coordinator, Cincinnati, Ohio USA
Through many posts, Energize was there to provide information, advice and comfort. Best wishes on this birthday and many more.
Tina Conlon, Frontier College, Community Coordinator, Toronto, Ontario Canada
Thank you! You are always a great resources.
Johanna Shrout, Beaverton School District
Coordinator, District Volunteer Services, Beaverton, Oregon USA
Happy Birthday to Energize!! You deserve praise for all the help you have given Volunteer Managers and Volunteers. May you have many, many more years. :o)
Betty Ireland, Augsburg Lutheran Home & Village,
Volunteer Services Coordinator, Baltimore, MD USA
Congratulations!!!!! Here is to 30 more!
Deb Copeland, VistaCare, Manager of Volunteer Services, Philadelphia, PA USA
deborah.copeland@vistacare.com
Thank you Susan Ellis and the wonderful staff at Energize for all your hard work and your commitment to helping Volunteer Managers everywhere be better and give us the opportunity to learn from each other. Happy 30th Birthday!
Denise M. Cusimano, Dobson Academy, A Ball Charter School, Volunteer Coordinator,
Chandler/Arizona USA
Keep up the great work! May we celebrate 30 more years!
Angela Ruiz-Alvarez, CSET, Assistant Director
Visalia, CA USA
Very newly introduced to managing volunteers and this site, I LOVE IT! Excellent resource, you've made my job so much easier and exciting! Happy Birthday!!
Angela Saylor, National MS Society, Program Assistant, WILMINGTON DE USA
Congratulations!!
Shannon Gonzalez, Family Service Association, Volunteer Coordinator, Moreno Valley, Ca USA
Happy Birthday and thanks for the great ideas and products! Keep them coming for years to come!
Catherine Mroz, Hancock Count Public Library,
Library Assistant - Administration, Greenfield, Indiana USA
Thanks for all you do to make our jobs easier.
Happy Birthday!
Charlie Nelson, MIFA, Director of Volunteers
Memphis , TN USA
Congratulations on the 30 years of service to us as workers in the volunteer world. I receive encouragement and ideas from your monthly newsletter.
Anna Charles, Ephrata Community Hospital,
Volunteer Coordinator, Ephrata, Pa USA
You offer a valuable resource, Thank you!
Jennifer Young, South-East Regional Health Authority, Director Volunteer& Auxiliary Resources
Moncton, New Brunswick Canada
Happy Birthday and congrats on 30 wonderful years! I look forward each month to the newsletter and resources. Keep up the great work!
Rae Blasquez, City of Mountain View, Coordinator of Volunteer Services, Mountain View, CA USA
Congratulations to our friends at Energize, Inc! Susan, you and your staff have done a wonderful job in making Volunteerism a priority in the lives of agencies, organizations and churches. Volunteers have finally received the much needed credit that they deserve as well as those who serve as Volunteer directors. Keep up the great work!
Blessings! Major Susan J. Stinson, The Salvation Army, West Chester/Coatesville.PA.
Happy Birthday, Energize! Ever since 1982, when I was first in the volunteer management field, I have been a loyal reader and fan. You have moved with me from job to job and I could not keep my skills current with your resources. Thanks!!
Pam Claeys, Family Justice Center of St. Joseph County, Volunteer Coordinator, South Bend, IN USA
I am new to volunteer leadership and management. Our program has benefitted greatly from the e-mail newsletters and books available through Energize Inc. Several of the topics we sought information about (including volunteer management practices, program development and recruitment ideas) have proved to be worthwhile. You've given us the tools to help grow our program, and begin to manage our volunteers more effectively. Thank you for the support!
Pat Spain, Polk County Conservation, Planning and Outreach Coordinator, Granger, IA USA
30th birthday! Imagine! I was born the year you launched Energize and now I am working in the volunteer management area! Happy Birthday! Joelle Soliveau, ALS Society of Quebec, Coordinator of Customer Services,
Montreal Canada
Happy Birthday to Energize, and especially you Susan, for all you have achieved and for helping the field of Volunteer Management grow and blossom. You, Energize, and your superb writers have been a great resource throughout my 17 years in this field. The ideas, direction and answers found on Energize have helped us to expand the Volunteer Resources Program in Plano, Texas. I look forward to many more years of insight from Energize. Best of luck in the future,
Robin Popik, City of Plano, Volunteer Resources Group Volunteer Resources Supervisor
Plano, TX USA
I was blessed by purchasing materials which enable me to have a better opportunity for my volunteer recruitment.
Mirna Herrera, HospiceCare of Southeast FL, Inc.
Volunteer Coordinator, Miami USA
Congratulations on 30 years of hard, valuable work. Be well,
David Monroe, Rochester AmeriCorps, Program Advisor, Rochester, NY USA
Thank you for being here!
Julie VanderNoot, CAVS, Bronson Methodist Hospital, Manager, Volunteer Services,
Kalamazoo, Michiagn USA
Thanks for your leadership.
Mauna Cowan, Parkview Hospice, Hospice Volunteer Coordinator, Fort Wayne, IN USA
Happy Birthday, Energize! Thank you for being a wonderful resource to leaders in volunteer management. We are fortunate to be able to turn to you for education, references and networking.
Lori Van Lin, Gundersen Lutheran Medical Center,
Director of Volunteer Services, La Crosse, Wisconsin USA
Thank you Energize Inc. I am a fairly new volunteer manager and was in need of advice. I stumbled upon your site and was so relieved when your site answered ALL of my questions. Thanks again.Lisa G. Smith, Bayou Area Habitat for Humanity, Volunteer Resource Manager, Thibodaux, LA USA
Susan - Congratulations! Remember the 1981 Conference in Philadelphia?! We wouldn't be anywhere near where we are if it weren't for you - then and now!!! Many thanks for your energetic and insightful leadership of this field.
Christine G. Franklin, BoardMatters, President
Savannah, GA USA
Happy birthday! Susan you are such an excellent resource for us all! Thank you for all your hard work.
Selina Worley, Inland Northwest Blood Center, Volunteer Coordinator, Spokane, WA USA
Happy Birthday Energize Inc. I've enjoyed your resources and look forward to another 30!!
Athena Damdounis, MY TURN Inc., Career Specialist, Nashua, NH US
Congratulations on the 30th birthday of ENERGIZE! Like so many others, I can truly say "I remember when.....," back in Philadelphia when you helped me with the Philadelphia 4-H Program and were an inspiration to our volunteers and staff. Thanks for your support over the years and for continuing to provide the great resources that you do for so many. Keep on truckin'!
Helaine Brown, Penn State Cooperative Extension
Extension 4-H Educator, Delaware County, PA USA
Congratulations to you!
Sheri Vining, Iowa Methodist Medical Center and Blank Children's Hospital, Des Moines USA
Congratulations on your 30th Birthday! I remember "meeting" Marlene Wilson, Harriet Naylor and Ivan Scheier through the U.S. Department of ACTION training materials - and then along came Susan. While I considered Marlene Wilson the best translator for effectively designing & managing the systems in which Volunteers serve, for me Susan soon became her heir-apparent. Susan's prolific writing from all perspectives on the Management of Volunteer Systems and real-life applications (begun with her own) has made each concept resonate with credibility and truth.
Thank you, Susan, for the professional leadership, commitment and dedication to a field that too often leads the best practitioners on to executive positions where volunteers are relegated to a subordinate's focus. And the volunteers who lead and manage all volunteer efforts outside of organizaational settings are often not even acknowledged as Natural Leaders in the Volunteer Systems field!
You have broadened the horizons for students of volunteerism around the world - what a wonderful way to measure the professional impact of your career!
Joan E Thompson, Mayflower RSVP, Inc., Executive Director, Plymouth, MA USA
I have used Energize Inc. for the past five years and could not do my job without such wonderful resources! I thank you for all the information you share! Happy celebrations! Here is to many more years with this great new look! Cheers.
Dawn Barr, KFL&A Public Health, Supervisor of Volunteer Programs, Kingston, Ontario Canada
Happy Birthday Energize! Thanks for being a great source of help for volunteer services directors, managers, etc. You are one of the sites I visit nearly every week! Keep up the good work!
Cindy Petty, Gibson General Hospital, Community & Public Relations Coordinator Princeton, IN USA
Happy Birthday and thanks for all the fabulous information!
Jean Cuthbert, Volunteer Centre Edinburgh
Learning and Practice Officer, Edinburgh Scotland
Congrats Energize! I wish you another 30 plus years of doing great work!
Ricgard Fernandes, Spark the Wave, Philadelphia, PA USA
Lookin' good at 30! When you were starting out, I was in college (in a very different field) and could never have imagined I'd be where I am today. Volunteer management is truly a wonderful place to be and I certainly appreciate all the resources you provide.
Lorraine Berner, Bethlehem Haven, Volunteer Coordinator, Pittsburgh, PA USA
Happy Birthday! Energize is such a breath of fresh air, always up to date and current and so available to us! May you celebrate many, many more. Keep up the great work!
Cheryl Whitieford, Waukesha Memorial Hospital,
Manager, Vol. Services, Waukesha, WI USA
Congratulations Susan and Happy 30th Energize! I continue to appreciate and share the wonderful resources, the challenges you provide in the monthly hot topics, and the connection to so many great articles in e-volunteerism. Best wishes for continued growth and success!!
Barb Gemmell, Gemmell Training & Consulting, Winnipeg Canada
Thank you for all your great ideas and new ways of approaching the important work we do. Here's to 30 more fabulous years!
Carol Senter, BCYF, Boston MA
Happy Birthday!
Jennifer Novelli, Global Links, Volunteer Program Coordinator, Pittsburgh U.S.A.
Hi Energize Staff, Thanks for all the wonderful info. your site has been a tremendous help!!!
Betsy Damitz, United Community Ministries,
Volunteer Services Coordinator, Alexandria VA USA
Happy B-Day. Thank you for being there for us.
LaWanna Eldridgde, Rockford Rescsue Mission,
Volunteer Service Coordinator, Rockford IL.
Congratulations Susan and staff. We look forward to helping you celebrate your birthday when you are in Winnipeg in June Susan!
Rhonda Lorch, Lorch and Associates, Consultant and Trainer, Winnipeg Canada
Congratulations on 30 years of great information, wisdom and support.
Kendra A. Moitoso, Kent Hospital, Director of Vol Svcs, Warwick, RI USA
Congratulations on this milestone!
Amanda S. Bureau, Association of Fraternity Advisors, Director of Member Services
Indianapolis, IN
Best wishes for many, many, many more years of productive service.
Alfreda Cooper, National Literacy Electronic Media Programme, Consultant, Nassau Bahamas
Happy to have this great resource. congratulations!
Elizabeth Hendrix, American Cancer Society, Volunteer Coordinator, Des Moines IA USA
Congratulations on 30 years of impact!
Tamika Vinson, HelpLine of Delaware and Morrow Counties, Inc., Outreach Coordinator, Delaware, Ohio US
Congratulations to you Susan and to all of the Energize staff! I love your new look and appreciate your continued dedication to the field of volunteerism. Thanks for making the field a great place to be and for helping us help Delaware agencies and organizations working hard to be the best in the field. Your support continues to be essential to our success! We have a new look too! Visit us now at www.VolunteerDelaware.org and Turn Your Passion Into Action! I'm off to download my party hat! All the best!
Clare Garrison, VolunteerDelaware, Ms. New Castle, DE USA
Happy Birthday, Thank you for giving us the inspirations and allowing us to do what we do best!!
Nichole Milhon, SASA Crisis Center, Assistant Director, Hastings, NE United States
Congratulations and many thanks for all your contributions to volunteer management.
Marcia Tammeus, Children's Mercy Hospitals and Clinics, Program Manager, Volunteer Services
Kansas City USA
Happy 30th Birthday!!! Also thanks for your continued help on your Website.
Mary Millard, Three Pillars, Dir. of Volunteer Services, Dousman, WI USA
Susan the Energizer, extraordinaire! How can your company be 30 when you appear to be only 39? You have inspired and challenged us to be our best. You have confronted us with new ways of thinking. And you keep on opening new windows and doors, expanding the vistas, opening interesting pathways. Keep on keeping on! And Good luck!
Audrey Suhr (formerly National Aquarium), Consultant, Baltimore, MD USA
Best wishes for continued success!
Marilyn Dyson, Alzheimer's Association, Delaware Valley Chapter, Volunteer Services, Philadelphia, PA USA
Thanks for a great Website with useful and thought-provoking articles.
Best Wishes, Beverley Hamblin, Family, Youth & Child Services of Muskoka Volunteer Service Worker Ontario, Canada
Happy Birthday! Thanks for all you do to support Volunteer Managers around the world! The Website looks awesome!
Kathie Cronk, The National MS Society, Manager of Volunteer Development, Philadelphia, PA United States
Happy Birthday! Thanks for the great advice and the great ideas! When I was just learning, you made me look like a pro! All the best for the next 30 years!
Colleen Fritsch, DARTS, Director of Volunteer Resources, West St Paul, MN USA
Happy 30th! Thank you for the many years or resource services you have been providing. Wishing you many more happy birthdays!
Barb Tiggemann, DARTS, Manager of Volunteer Development, West St Paul, MN USA
Happy Birthday! Thanks for all your hard work!!!!!!!
Jessica Parent, Sexual Assault Support Services of Midcoast Maine (SASSMM) Outreach, Coordinator, Brunswick USA
Wow! Congratulations on your milestone! Keep up the good work of keeping all of us informed and up-to-date regarding Volunteerism all around the world! You have been such a help to me in my career! Happy Birthday!
Louise Shivers, Monmouth Medical Center, Coordinator, Long Branch, NJ USA
What a resource you have become we in the field thank you for your continued efforts....great work
Dennis Stover, Friendship Volunteer Center,
VP of Civic Engagement, Sarasota, FL USA
Susan, Congratulations! What an achievement for you and a wonderful resource for all of us. So much has changed since I first had contact with you in 1990 or 1991. I was on the planning committee for an AVA Region 1 conference and you were our main presenter. Your first fax machine was initiated when you sent your presentation materials to me. Thank you for all you've done for the field of volunteerism.
Merle Jones Lindsay, United Way of Massachusetts Bay, Director, Community Impact
Boston, MA United States
Energize makes a world of difference by providing newer and better resources for volunteer groups. Thank you and Happy Birthday!
PJ Hagerdorn, Peoria Area SeniorNet Learning Center, Volunteer, Peoria, IL USA
Kudos for thirty years --
A mainstay for a fluctuating business.
Mary Kay Hood, Hendricks Regional Health, Director of Guest & Volunteer Services, Danville, IN USA
Susan - Thanks for being such a great resource!! You really make our programs shine!
H. Roy Adams, All Children's Hospital, DVS,
St. Petersburg, FL USA
Thanks for all the helpful information!!
Ashley McPherson, Methodist Children's Home, Volunteer Secretary
Waco, TX USA
Happy Birthday!
Dana, Odyssey Healthcare, Volunteer Coordinator, Charleston, SC United States
Congrats to the best volunteer site anywhere!
Dan Tabler, Maryland 4-H, 4-H Volunteer Coordinator, College Park, MD USA
Happy birthday to a great pioneer, and many happy returns!
William Henry, The CIMA Companies, Vice President, Alexandria, VA USA
Wow 30 years! Looking forward to enjoying this wonderful resource for many years to come. Happy Birthday!
Karla Weber, KFL&A Public Health, Coordinator of Volunteers, Kingston, Ontario Canada
Susan - Thanks for being such a great resource!! You really make our programs shine!
H. Roy Adams, All Children's Hospital, DVS, St. Petersburg, FL USA
Happy Birthday! Keep up the great work, you really help to ease the "growing pains" in volunteer management!
Tracey Vaughan, The Wexford Residence Foundation, Director of Development, Toronto Canada
Congratulations! I appreciate you fabulous resources & seminars! Keep up the great work!
Ann Salm, Thrivent Financial for Lutherans, Assurance Specialist, Appleton, WI USA
Happy Birthday!!! THANKS for helping us do our job better!! Susan, you are AWESOME!!!!!!!!!!!!!!!!!!!!!!!!!!!!
Marty Atherton, Families First, Coordinator of Volunteer Services, Atlanta GA
Many happy returns! Message from Japan: I have gotten useful information from Enerigize buying books and downloading articles. I established Japan International Institute for Volunteering Research in 2005 and we have been studying the relationship between volunteering and culture and social structure. We hope that Energize will keep providing significant information and knowledge in the above field.
Toshiyuki Aoki, JIVRI, President, Japan
Congrats on 30 wonderful years. It's always a comfort knowing you and your wisdom are available. Wishing you another 30+!
Susan Smith, St. Vincent Charity Hospital, Manager, Volunteer Services
Cleveland, OH USA
Always insightful and refreshing.
Jeffrey Yob, Wind Gap Fire Co., President, Wind Gap USA
Happy Birthday, Susan. Yours and your company's. It looks like you are taking it to the next level at "warp speed." Be well and prosper.
David Lurie, BluSolutions, Regional Sales Manager, Breinigsville, PA U,S.A.
Thanks for Energizing! Keep up the good work!
All the best for the next 30 years...
Patrick van de Coevering, United Nations Volunteers, Programme Officer,
Bratislava Slovakia
Woo Hoo! ! ! Keep up the good work for all of us Volunteer Managers in the world! I work with the GS volunteers in Europe, mostly on the military bases.
Beverly Ferguson, USA Girl Scouts Overseas - North Atlantic Director of Membership and Marketing, Heidelberg Germany
Alles Gute zum Geburtstag! As I said over on your hot topic, Susan and Energize changed my career path, my work style and, therefore, my life. Materials from Energize have been absolutely essential to my work of the last 11 years -- and will continue to be so. Hearty birthday greetings from Kabul, Afghanistan.
Jayne Cravens, Kabul Afghanistan
Happy birthday!!!!!
I get a lot of experience from this Website....
The young pharaoh, School, Student, Giza Egypt
Happy 30th Birthday! Continued success and thanks for your help.
Brenda Jew Waters, West Coast Connections, Event and Promotions Coordinator
Sacramento, CA USA
Congrats Susan and Happy Birthday Energ!zers :) Great make-over for the big 30. I'm excited to see your continued success.
Jeremy Foreman, Hands On Ogeechee/Community Centered Foundation, Inc.,
Executive Director, Statesboro, Georgia USA
Happy Birthday Susan and all of you at Energize! I feel I know you because I have quoted you through the years in various national workshops I have given on volunteer recruitment and management. I always suggest people go to your site and purchase your fine materials. Your information is the best because you have been there/done that, and then you pass it on to us. Thank you for so many great ideas.
Sue Staggs, CAPP, State Director, Richmond, TX USA
Congratulations on a wonderful site!
Erica Weick, Adkins Arboretum, Coordinator of Volunteer Programs, Ridgely, MD US
Hi Susan and Energize Staff, Congratulations on reaching 30!!! Looking forward to at least another 30 years of quality volunteer management resources, advice, support and networking opportunities.
Adaire Palmer, Australasian Association of Volunteer Administrators (AAVA), Vice President, Adelaide Australia
Happy Birthday to Energ!ze. How exciting to become 30 years old! It has always been a treat to work with you, Susan - and appreciate your commitment to excellence AND innovation.
Colleen Kelly, Volunteer Vancouver, Executive Director, Vancouver, BC Canada
Happy Birthday!!!!! I just found your site but have already disseminated it to many friends in the industry.
Therese Gray, Gray Mediation, mediator, Costa Mesa,CA USA
Happy birthday Energize! I hope the next 30 years will be just as exciting, insightful, groundbreaking and informative!
DJ Cronin, Australasian Association of Volunteer Administrators, President, Brisbane Australia
Congratulations for being 30 years in business and leading the way in the volunteer management sector. I wish Energize more good years to come. Happy Birthday!!
Lam Moy Yin, National Volunteer & Philanthropy Centre Trainer Singapore
Happy birthday Energize. You all make such a valuable contribution to the volunteerism field globally and I look forward to celebrating many more birthdays with you.
Rob Jackson, Volunteering England.
Happy birthday to a shining star! It is hard to believe that Energize is 30 years old. Still, I can't remember a time over my own 30 plus years in Volunteer Resources Management and the volunteer community, when I did not rely on you, Susan, and Energize for timely resources, expertise and insight on volunteerism. Always on the cutting edge, while honoring the great history and contributions of volunteers, you have helped to pave the way into the future of volunteerism. Thank you for your courageous leadership and the important role you play as a "conscience" and advocate for the volunteer community. Paula J. Beugen, Community Change, Consultant , Golden Valley, Minnesota
The real story of Energize and its impact on volunteerism will unfortunately never be told, mainly because Susan is the only person who ever thinks about maintaining our history. Too bad, because it's a good story, full of hard work, creativity and a bit of inspired fanaticism. So I hope there is a really large and elaborate birthday cake to serve as a substitute, with lots of candles.
Steve McCurley, Olympia, WA
From the bottom of Australia, 10307 miles away, I would like to wish ENERGIZE INC Happy Birthday. Congratulations and thanks to Susan for her commitment, work and tenacity. The sector is richer for her and Energize.
Thanks too to the team who have supported Susan in the past and now. Well done!
Martin J Cowling, CEO, People First, Australia
Happy birthday to Energize Inc and congratulations to Susan on a fabulously successful endeavor. Both Susan and Energize have been with me throughout my career in nonprofit management. It's been a productive and collaborative relationship that I highly value. Here's to a glorious past and a bright future!
Leigh Wintz, CAE, Soroptomist Soroptimist International of the Americas, Philadelphia, Pennsylvania, USA
Energize has supported me personally from the beginning of my career in volunteer management. As I started off in Singapore as part of a team that set up the National Volunteer and Philanthropic Centre, providing close guidance on an array of conceptual and practical issues pertaining to setting up a new Volunteer Centre that is working at a national level.
Later on, at my work in Yad Sarah's Leir Institute of Volunteer Management in Israel I've continuously referred to the topics raised and the boundless information available on the Energize site.  Articles raising difficult issues have been translated and posted on the Israeli Volunteer Portal,  opened new ways of looking at volunteer management issues and have provoked virtual debates.
I hope that the next 30 Years of Energize will be even more groundbreaking. I  regard it as one of the most authoritative sources on volunteer management and hope to continue working with it.
Wishing you a Happy Birthday.
Yael Caplin, The Lei Institute of Volunteer Management, Yad Sarah Jerusalem, Israel
As the Australian 'affiliate' of Energize, I just wanted to say CONGRATULATIONS to Susan and all of the Energize team on your birthday.
What an amazing milestone!
It must be truly fulfilling to know that you've not only operated a successful business, but that you have all had (in so many ways) such a direct and important influence on the development of volunteerism all over the world - Australia included. It continues to be a great pleasure to be able to work so closely with such a terrific bunch of people.
Congratulations once again. Now is the time you should all volunteer --- to party hard! :O)"
Andy Fryar, Director & Founder, OzVPM, Adelaide, Australia
Energize Inc. has been the voice of "impassioned reason" in a profession that thrives on both.  Throughout all the sometimes-controversial political and social changes our world has faced, Energize and it's founder, Susan J. Ellis, have provided an anchor.  The true value of their contributions to our society can not be overstated.  Samaritan Technologies is proud to endorse their efforts as the "radio free" voice of volunteerism. Congratulations on 30 years!!!"
Todd McMullin, Co-Founder, Samaritan Technologies, Salt Lake City, Utah
I'm so delighted that you're celebrating this extraordinary accomplishment, and marking a milestone, even as you keep Energize alive, thriving and growing every day. Your leadership in the field has been, is and will be a gift to untold numbers of people - I count myself among the luckiest for having you as a friend. Mark and I send hugs, congratulations and blessings for your celebration and to you."
Karen Key, Washington, DC