Energize has been diligently working to compile a list of resources to help leaders of volunteers deal with this quickly evolving situation.  Access the list or share your resources!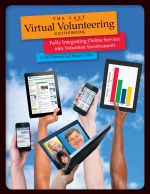 Understand how to integrate online service into all volunteer involvement. Design virtual volunteering assignments and recruit, train, and support online volunteers.
25% off. Use code: VV2020
Get free tips and updates!
Sign up for your choice
of our monthly e-newsletters.