Last month I used this space to talk about the consequences of the lack of knowledge about volunteer involvement by relatively thoughtless executives. This month I want to focus on conflicting messages and unclear boundaries common to many of the most traditional volunteer roles:
Any assignment labeled some variation of "friendly visitor" or "buddy," in which the volunteer agrees to spend several hours weekly with a client – often a homebound senior or someone with late-stage AIDS. These visits are usually in the client's home, one-to-one, with little structure other than the goals of providing welcome company, forming a supportive relationship, and being helpful in small, practical ways.
 
Youth "mentoring" programs including, but not limited to Big Brothers Big Sisters, in which children of various ages are matched individually with an adult who is willing to spend time with the youngster as a caring friend (and often as a role model) – not as a babysitter, parent, probation officer, or therapist. The pair meet in the community to do things together and, ideally, form a close bond.
 
"Coaching" an adult, also one-to-one, to succeed at an important life goal. The types of people needing help include recovering addicts learning how to spend weekends without drugs or alcohol, parolees re-entering the community, public assistance recipients in their first full-time job, refugees and immigrants tackling life in a new country, or adults wanting to improve literacy skills. 
Consider the implication of these "friendship" assignments from the three perspectives of those involved:
The volunteer responds to the idea that this service is important and that caring attention will make a difference to the assigned person in need.
The client generally does not want another formal, professional expert, but a friend.  Someone who offers respite from daily problems, cares on a personal level, and provides some help in daily, practical matters.
The agency and paid staff want to serve clients as an extension of their professional services. They see the client as their responsibility and the volunteer as their agent. Both are true, but neither account for the intangible quality of individualized, personal attention called friendship.
Whose Perspective Counts the Most?
If you look at the way one-to-one volunteers are recruited, you are likely to see invitations to sign up couched in deceptively simple language: be a friend; only an hour of your time; make someone's day brighter; just be you and show that you care. Despite such messages, in many ways these roles are the hardest things we ask volunteers to do.  Often the clients needing the most personal attention are the ones with the most problems and the fewest friends and family in the picture. Some may live in low-income neighborhoods with high crime levels, or live in homes that may be poorly furnished or even unclean. Volunteers sign on to meet a client without knowing what they will see, experience, even smell. But that's exactly the sort of challenge that makes these special volunteers step up to give service.
We ask these individuals to meet the goal of "helping" in isolation, most often alone with the client, far from the organization that has made the match. Because of the individual nature of such visits, we can't really give the volunteers a script or a one-size-fits-all agenda. Success depends largely on chemistry: Will the client and volunteer like one another and enjoy each other's company enough to keep meeting?        
So everyone is happy if the match turns out to be friendly. But what happens if the two people actually become friends? Whoa! Suddenly we discover that most agencies care more about maintaining professional boundaries than anything else.
Boundaries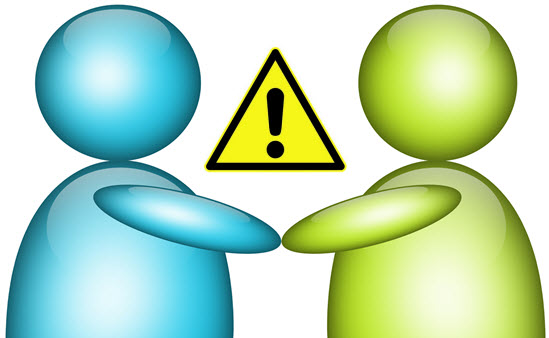 Many professions teach that it is necessary to maintain some distance from a problem or the people experiencing it so that help can be given objectively and competently. Certainly we don't want a nurse administering medicine while crying in sympathy for a patient's pain or a social worker torn between the conflicted feelings of children, parents, and grandparents. But what is proper for the paid service provider is not necessarily what comes naturally to the volunteer we've recruited to be a friend.
The first responsibility of the organization is clarity in discussing expectations. We need to express – at the start – the things we do not want a volunteer to do, and hold the same discussion with each client who will be assigned a volunteer. 
Some of the boundaries are completely legitimate, although they come with gray areas. The volunteer is not there to clean the house (but of course can clean the dishes in the sink after a shared meal). The volunteer should not give opinions or advice on medical care (but what if that's on the client's mind during a visit?). The service is only for the specific individual assigned (but how can the volunteer not be friendly to others in the household during the visit?). No money should be given, loaned, or requested on either side (so what happens when the grateful client unexpectedly leaves something to the volunteer in a will?).
In the real world, volunteers react to situations when they happen, in the best way they can with the resources at hand. Unfortunately, however, when the agency hears what was done (after the fact), too often the volunteer is reprimanded or even terminated. Here are three real-life examples (and I have many more):
A coach transports two young athletes to a meet, despite a no-driving-children rule. Why? The coach is the parent of one child and was asked to drive the teammate by that child's parent.
 
After three years of friendly visiting, and therefore meeting the brother of the female client often, the client asks the volunteer to visit her brother in hospice care because he is alone there and she is not well enough to go herself. The volunteer, not able to go personally, arranges for a friend of the brother to visit. The hospice (run by the same parent agency) reports this as a violation of the brother's confidentiality and even (incorrectly) quotes HIPPA to the confused volunteer.
 
A mentor invites his assigned child to come to his family's Fourth of July barbecue, and also invites the child's mother and siblings. The agency sees this as violating the one-to-one rule. 
Don't Be Surprised…and Prepare
Life happens. You can easily see how each of the three situations above would occur naturally if the volunteer had succeeded in the primary request of the organization: please be friendly and supportive of your assigned client. The trouble is that no paid service worker would ever do these things. And isn't that the point?
Please understand that I am not denying the importance of rules, risk management, and proper behavior. I am advocating, however, that we grasp the magnitude of what we are asking volunteers to do when we tell them to form personal relationships with clients. Social workers may be able to explain a refusal to do something out of bounds, but sometimes a friend just does what another friend asks. And it is mean-spirited of an agency to then call a volunteer on the carpet because they transgressed in being "too friendly." Maybe we should change the name of these friendship assignments to "Not-So-Friendly Visiting" or "Sometimes Buddy"!
Note, too, that in all the examples, the volunteer did what the client wanted. Ultimately, isn't the client (or legal guardian) the arbiter of what can be done in his or her name?
So the take-away is this:
Examine your recruitment materials to see if you are luring volunteers in with the offer of forming important friendships (even implying kinship!) without considering the consequences of true success.
 
Provide training on how to deal with the unexpected. Discuss your desired boundaries and why these make sense for everyone. Most important, explain what to do if a client requests a service that seems to stretch those limits.
 
Create an easy but regular reporting system that assures the paid staff member who made the match is keeping in touch with both the volunteer and client and has a feel for how things are evolving. Very often the matches last longer than the paid staff member, and a new hire will lapse contact with those matches predating his or her time with the agency. This is a recipe for unwanted surprises.
 
Be clear on what a volunteer should do when confronted with a situation needing assistance from someone, even if it shouldn't be from the volunteer. Who should the volunteer call to discuss actions to take? What if it's after office hours, since many matches get together in the evenings or on weekends? Do not expect a volunteer to tell a friend (the client), "Sorry, but your need will have to wait."
 
Develop a process for dealing with problems when they occur. In fairness, this has to give the volunteer the chance to explain the circumstances of the action taken. Then take those circumstances into consideration and be open to permitting exceptions to the rules if sensible. And ask the client's opinion, too! Even if you determine that the behavior is not excusable, determine if it was done in good faith and to serve the client. And please say "Thank you for trying to help." After all, you asked the volunteer to become a friend.
Another thing to consider is this: you can fire a volunteer, but you cannot end a friendship by executive order. Unless the issue is one of criminal intent, the two people who have become friends through your introduction have every right in the world to keep seeing each other. Not under your auspices, of course, but because they each want to. What do you want them to say when they talk about your organization?
Have you experienced any of these too-friendly-visiting scenarios? What happened?
How has your organization handled unexpected crossing of boundaries in these sorts of matches?
Receive an update when the next "News and Tips" is posted!