Happy New Year everyone!
Sorry if you've had your fill of articles urging you to make resolutions that will only last a few weeks. I also want to suggest a resolution but, ideally, this one should be easy to enact...and maintain.
I receive lots of e-mails from leaders of volunteers asking for volunteer management advice.  In most cases, the request begins with: "I've been asked to …." Then the person goes on to describe something requested by her/his executive, regarding some aspect of volunteer involvement. S/he finishes with a variation of "So, can you tell me what to do?"
Sometimes the colleague is excited at the new opportunity and mainly wants direction to resources, which is great. Unfortunately, however, most are dismayed or confused at the request and wish they could refuse. They want me to give them "ammunition" for saying no. Or a quick fix!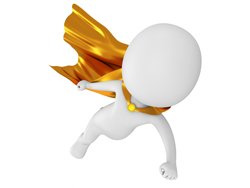 Almost always, I begin by redirecting the person's attention away from the search for a solution and back to the boss's request itself.  What's behind the request? What perceived problem needs to be fixed? Is someone even higher up in authority putting pressure on your boss and it's getting passed on to you?  Is it a suggestion or a demand?  Has anyone else in the organization received a similar request?  How did your boss come up with this particular idea?
The answers to these questions help to separate legitimate requests from knee-jerk reactions to something else. Once we've determined that there is indeed a need to be met and the proposed course of action makes sense, then we can focus on complying in the most effective way.
But…if we decide this request is as ridiculous as it sounds, what can the colleague do?!  And here is where the New Year's resolution comes in. I would love everyone to internalize the following self-promise:
I will always express my professional skills in volunteer leadership by doing what is genuinely best to support and expand engagement of volunteers towards meaningful service to our organization and the people or cause we serve.
I am talking about pride in our profession. If we believe that we have knowledge and skills unique to mobilizing volunteers, we owe it to everyone – and especially ourselves – to stand up for what we think is right. This may occasionally take courage, but it always matters. Speak with the authority that comes from knowing best practices in working with volunteers.
Respect, Not Rebellion
I am not advocating being obstinate or argumentative when someone in your hierarchy directs you to do something. In fact, the whole point is to truly believe that your executives are intelligent, caring people. They are not purposefully being unreasonable or doing something against the organization's best interest. It's just that they are uneducated about volunteer engagement – and don't even realize it. That is precisely why, when they confidently propose something that you know is ill-advised, nonsensical, or needlessly time-wasting, you are being helpful when you question the request.
A few years ago I wrote a Hot Topic on "Why?" Is More Powerful than #@#%!. If you haven't seen it, please take a look. I share some practical advice on how to raise questions that ultimately educate your superiors, making it harder for them to push you into something you think is not useful and opening the door to a better solution that you can carry out.
Be Confident in Your Expertise
Volunteer management is a profession. If you see it only as a job, then your main criteria for success is pleasing your employer. If you are a professional, then you have cultivated a basic knowledge base that can be transferred from setting to setting. It's knowledge expressed both in skill and in conviction. You can articulate why you do something as well as how to do it best.
Also, while everyone in your organization must weigh decisions based on its mission and the needs of the people or cause you serve, by definition you need to add consideration for the support of volunteers. So, you're always within your rights when you examine things through that prism. The point is not to put volunteers first, simply to balance out the effect of actions taken.
Executives should also be considering the effect of decisions on paid employees and how financial donors will react. Interestingly, they do not always follow through with giving equivalent weight to matters affecting volunteers  even though they insist on seeing volunteers as "unpaid staff." In the same vein, no executive would do anything to jeopardize the goodwill of those who give money, but feel no similar responsibility to those who give time. It's up to us to point out how detrimental this can be. (Start with this Nonprofit Times article: "Donors and Volunteers - More Alike than Different.")
Of course, the opposite is also a challenge. Sometimes you will be told to do something because that's what the human resources department (HR) does or what the development office does. So on the surface, the request seems to treat volunteers "equally." But volunteer management is aligned with, yet different from, both HR and fundraising. Again, it's up to us to point out why some things cannot be handled in the same way. (Revisit my recent Hot Topic on "The Limitations of Seeing Volunteers Only as Unpaid Staff.")
Start the Year Right
I trust that you recognize the assumption on which all of the above is based. I believe that you have the knowledge to behave like a proud professional.
But, let's face it, many leaders of volunteers have been hired as entry-level employees or have been given the responsibility of leading volunteers as an "add-on" to another role. If you find yourself in the situation of having the job without really knowing what it's all about, start learning now!  You can begin with the A-Z Volunteer Management Library right here on the Energize, Inc. site and go from there. Even better, invest in some basic books. Read a lot of things; look for conferences to attend; find a professional society to join. But don't just ask others to educate you on elementary topics. Give yourself a foundation on the basics and then get specific with your questions of colleagues. We're a pretty generous profession in sharing our ideas.
If you feel you know the basics, are you keeping yourself current? Can you refer to external resources as part of your goal of "educating up"? Do you know the trends and issues affecting volunteerism today?
Once you are confident in your solid professional knowledge, it ought to be easy to keep to the New Year's resolution I suggested. Respond to requests in the most skilled, responsible way, pushing back when something is demanded that does not move volunteering forward in your organization.  You don't have to say "no," just suggest a different way to accomplish something even better.
Here's to pride in profession for 2017.
What do you think?
About the Profession:
While everything on this site is about the profession of volunteer management, this section of the library offers materials discussing the "profession" as a profession -- issues about acceptance, education, career development, and so on. If you are looking for more information about the role of a volunteer resources manager (the functions and daily work activities), you will find all that in the other section of this A-Z library, "How-to's of Volunteer Management."
Receive an update when the next "News and Tips" is posted!