As regular visitors to this Energize Web site know, I've been missing in action professionally almost all of 2018 since my sixth year of cancer treatment brought me new tiny paths to navigate off the main highway of health. But I have navigated those paths successfully and am very happy to be facing the new year with new treatments to pursue. Hope and very good friends make a world of difference! Thanks to all for your strong support - especially my fantastic Energize team.
With 2019 beginning, my staff wanted me to write about prospects ahead for our volunteer management field. Yet, as I sit at the computer, my mind keeps looking backward before considering the mysteries of the months to come. So, I hope this Hot Topic gives you, too, a chance to look back and ahead.
Volunteers Had Impact in the Past Year
2018 was a pretty horrible year in many ways (as I watched via television while recuperating and regaining strength). No matter your political persuasion, the U.S. Trump presidency has been disruptive. Public and global policy is experiencing upheaval. The lawsuits and sentences march on. At the same time, the Middle East has been realigning in new political ways, with continued violence. Plus, what have Russia, North Korea, and China been planning? Not to mention the turmoil in the United Kingdom around leaving the European Union and the current cost-of-living protests in France.
The weather around the world has been dramatically destructive: hurricanes, volcanoes, huge forest fires, and other natural disasters have been deadly, destroying homes and whole towns, and depleting resources of all kinds.
I'm sure each of you can revise and add to the "short" list of problems above, but very few people will create an equally long list of internationally good things. Except for leaders of volunteers! Why? Because volunteers were so visible (if not necessarily thanked) for the thousands of actions they took in response to the needs that arose. Here are just a few examples:
No matter where in the world, each natural disaster left thousands of people in deep trouble, first trying to survive the immediate effects but then attempting to rebuild their lives. Yes, paid emergency workers were all on duty and worked endless hours. Added to these forces came numerous other trained workers to join in the battle, some paid but many donating their time. Meanwhile, thousands of other volunteers, whether they were unharmed neighbors or people who traveled to help on site, arrived to go through destroyed areas to search for missing people and dead bodies, bring victims to shelters, make and serve meals, collect clothes and other needed items, and more. In some areas, the paid workers have moved on, but volunteers have kept going because many of the problems need long-term help.
 
It was also quite a year for citizen advocacy. I can't remember as many huge marches and handmade posters since the 1970 anti-Vietnam protests in the United States. In 2018, the causes ranged from #MeToo protests against rich and powerful men sexually abusing or harassing women, to anti- and pro-Trump campaigns, to American voter-registration campaigns in efforts to affect the politics of newly-elected officials, to disturbing racial and ethnic hate protests. Whatever your personal beliefs, never lose sight of the fact that such events are organized by and attended by volunteers. Sure, there may be a few paid managers, but such large gatherings cannot occur without many people who organize them, promote them, serve as peace/security workers, and show up to carry the signs and show affiliation. Political protesting has also been organized in many countries, also through volunteer advocates.
 
I'm not sure about other parts of the world, but in the United States at Christmas time, it is impossible to avoid television/radio/Internet sources without seeing ads bought by large nonprofit organizations to ask for financial contributions. Absolutely, these groups are vital and do need money, but most of them also have and need more competent and committed volunteers whose efforts provide services beyond the things money can do alone. The organizations rarely thank or try to recruit new volunteers in their "we need contributors" appeals (even if volunteers are the people staffing fundraising activities!).
This section could have many other international events listed. By all means, use the Comments area below to add more and also to report on (and applaud) the wonderful things volunteers have done for your cause in 2018.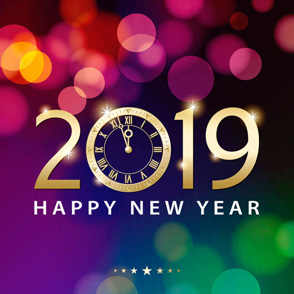 What about 2019?
Although I cannot predict the future, I still can promise that great, good, disturbing, and horrible things are going to happen. Let's hope for more of the first two. Regardless of what's good or bad, I predict with solid certainty that volunteers are going to be part of all of them. What does that mean for those of us who encourage and lead volunteering?
First, it means that we need to be involved in making past and current volunteering visible and welcomed – including both those people whom you recruit and manage, as well as other people who help your organization. Are the members of your board of directors paid? If not, they are volunteers. What about the people who run your fundraising campaigns? More volunteers? Are there any unpaid consultants, advisory board members, student interns, and others who are never really publicly thanked or invited to continue to volunteer? Make sure they are all appreciated – which should give you the determination to draft possible recognition press releases for your organization to use in all sorts of public outreach.
One idea for making past volunteering visible (which I first proposed in a 2000 Hot Topic in advance of the International Year of Volunteers (IYV) run by the United Nations in 2001) is to encourage everyone to begin honoring the role that volunteers played in starting, running, and then assisting their own organizations. See the Look Back to Look Ahead project steps at "Steps for Sharing Your Volunteerism History." If you do any of this, please let us know! The concept can also be used by associations of volunteer service managers and/or volunteer centers for their own communities.
Next, pay attention to public actions that in some way support your cause. Should you mobilize your organization's volunteers to write letters/texts to legislators on their opinions? Attend a community meeting on the protest, armed with questions to ask? Participate in a rally or a protest march? Send thank-you notes to politicians and funders who did the right thing? Why not? Your employees may not be permitted to take such actions, but volunteers are private citizens and voters with the right to express their support of issues.
Finally, work hard to build and improve your local association of volunteer service managers and volunteer center. Unless we work together, we cannot have visibility or power. Do not wait for some national or local organization to take the lead here. They will do what their funders want. What do you and your local colleagues need? And are you all willing be volunteers yourselves to get it done?
Much of what happens in 2019 will not be caused by us. But we can and do react, even if that means doing nothing. What will you do as a leader of volunteers? How can you help them to be as effective as possible, both in their work for your organization and also as outside agents of your cause?
Happy New Year!
What demonstrations of volunteer power did you see in 2018 and what do you predict for 2019?
What would you like to do in 2019 to build our profession?
Receive an update when the next "News and Tips" is posted!