General 
Shopping in the Bookstore
Buying Online
Electronic Books
Still have more questions? Contact us
Online Bookstore Features
Ability to Share Comments about Books and Resources
Help others understand the usefulness of books or resources. Share your thoughts by visiting the description page and scroll down to "Add Your Comment."  Enter your information, your comments, and click Submit.  All comments will be monitored to avoid spam.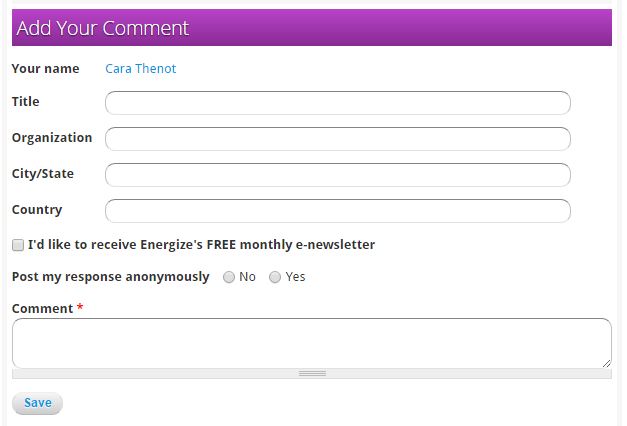 General
How do I access my account?
Note:  If you created a bookstore account with us in our old bookstore (before December 1, 2014), you will need to create a new account in this new store (your order history is still available by contacting the Energize office). If you have created an account in the new store, go to My Bookstore Account and insert your e-mail address and password.  You can download electronic books ordered in the past two weeks, print a receipt, change your password and contact information, or manage your shipping and billing addresses. You can edit this at any time, keeping it updated as necessary.
Why do I have to give you my e-mail address and a password?
You can browse the Online Bookstore without logging in but, once you want to buy something, the program will ask you if you are a returning customer or a new one. If you are a new customer, the first time you buy something you will be prompted to complete standard information about you and your shipping requirements. Creating an account allows customers to have instant access to their account information – kept secure and confidential through a password that you select yourself. This means that the system will store such things such as your shipping address without making you re-enter it every time you make a purchase.
 Is my account information secure? 
We guarantee that your information will be kept private and secure. We do not store credit card information or password information. We never sell or loan our customer list to other businesses! You will be asked whether or not you wish to receive product updates or other information from Energize, Inc. and we honor your choice.
Is there help available if I have problems or questions?
Yes, we are committed to serving customers on our Web site. But we understand that some questions cannot be answered through standard forms and procedures. Please feel free to e-mail us at info@energizeinc.com with any special issues or comments. We promise to respond as promptly as possible. Our normal work hours are M-F, 9 to 5, Eastern time zone. (Please note that we are a small company and cannot answer e-mail in the evenings or on the weekends. So if you e-mail then, give us a brief grace period in which to answer!)
For those of you in North America, you are also welcome to telephone us toll-free at 1-800-395-9800. We will be glad to answer questions you may have about any of the materials and to provide whatever assistance we can if you are learning to use electronic books.
For those of you outside of North America, you can telephone us at (+1) 215-438-8342 or fax us at (+1) 215-438-0434.
Shopping in the Bookstore
How can I find the books I need?
There are a variety of ways you can identify and preview books. On the right-hand side of the bookstore home page (and on all the individual pages) you will find a toolbar headed "Browse the Bookstore."
What you'll see:
What it means:
By Title
A complete alphabetical list of all books we offer, by title.
The Essentials     
A short list of books recommended for covering the basics of volunteer management, especially for newcomers to the field.

Published by Energize, Inc.

A list of books we publish ourselves - most of which are available both in electronic and printed form - and available
for individual sale, consignment sales at conferences, and special bulk discounts. 
KEYWORD SEARCH BAR
Enter any word or phrase you wish to search on -- the results are for the Bookstore only, not the rest of the Energize site.
Book Details
Every title in the Online Bookstore has its own page on which you will find the book cover, a description of the contents, an excerpt for you to sample, and the full table of contents. Formal book reviews and customer comments will also be shown when available.
How do I place an order?
On any book description page, simply enter the number of items you want, click on the "Add to Cart" button, and the item will be added to your shopping cart.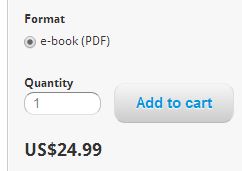 Continue shopping and adding as many titles as you wish.  As you add items to your shopping cart, you will see a running total in the top right hand corner of each page.  You can also select "Shopping Cart" from the purple navigation bar at the top of the page to see the full cart.  Any shipping costs, tax, and discounts will be added after you log in or create an account as part of the Checkout process. 
How do I complete an order?
When you have finished making your selections, click on "Checkout." You will be guided through the payment process as follows:
Step 1:   Log in to your existing account or create a new account.
Repeat Customers
After you log in, your default shipping and billing addresses will automatically populate. You may select or enter a different shipping and/or billing address. You may enter or verify a sales tax-exempt number if needed. If you need to generate an invoice or receipt with a purchase order number, you can confirm or change the number for the current order in the space provided.

New Customers
You will be asked to select and confirm a password, complete your contact information and preferences for e-mail and catalog distribution. If you have selected that you want a different shipping and/or billing address, you will be asked for this information as well. Near the billing address, you may enter a sales tax-exempt number if appropriate. You also have the option of entering a purchase order number for the current order, if you need to generate an invoice or receipt with that number.

Coupon Code
You may enter a coupon code on this page at any time. Be sure to enter the code and press Recalculate to see the discount is applied. 
Click "continue to next step":
All our books for sale are electronic
Electronic Downloads will be available immediately on the last page of the checkout process if you pay by credit card or Paypal. Look for the link following "Download Now." If you choose to pay by mail, after we receive payment you will be notified by e-mail to log in to your Bookstore Account and download your item(s).
Click "continue to to next step":z(link is external)(link is extern
Step 3:  Review your Order and Select your payment method.
Review your order.  You can make changes to items and address information at this time by clicking the "Edit Items" button in the Shopping Cart area.
When you are ready, scroll down to the Payment page.
You can select "Credit Card" or "PayPal" to pay immediately online.
Or select "Purchase Order" or  "Pay by Check," for which a printable invoice will be generated for customers who wish to pay by check through the mail or need to submit their invoice for approval/payment from an accounting office. Your order will be fulfilled after we receive your payment.
Click "Submit" to place your order
THIS COMPLETES YOUR ONLINE PROCESS. Please recognize that we cannot fulfill an order before receiving payment. As soon as payment is received on an invoice generated, we will e-mail you instructions on how to obtain your electronic books and/or ship you the printed books you have bought.
Step 5:  If your credit card or PayPal transaction has been approved, you will:
Automatically be sent a receipt by e-mail.
Be able to print a receipt of your transaction details.
Depending on what you ordered, you will see:

Download buttons allowing you to access your electronic titles immediately. (For instructions on downloading electronic books, click here.)
A list of printed books to be shipped to you.
Can I get a printed receipt?
Yes. If you need documentation of your purchase to show to your accounting department or for tax purposes, you will be able to print a paper copy of your transaction details after completing the purchasing process. If you misplace this receipt or do not print it out, you can log in to your account to view and print all receipts from the past six months.
What is the Energize refund policy? 
For electronic books, because there is nothing that can be "returned for resale," we will give full price credit toward future purchases, providing the request to "return" is made within 14 days after download.
Is there a discount on purchasing multiple copies?
 Yes. In general, we offer discounts when you purchase 10 or more copies of the same title. Note that there are discounts for multiple copies of electronic books.
To receive a discount:  Discounts cannot be obtained online. You must place the order by phone at 1-800-395-9800 or +1-215-438-8342, or by e-mail at info@energizeinc.com, to receive the discount. Please include the title and quantity of each book that you would like to buy, and your contact information so that we can let you know the exact discount available.
Buying Online
Which credit cards do you accept?
Energize accepts Visa, MasterCard, Discover, and American Express credit cards. You may also pay via PayPal.
Is it safe for me to use my credit card on your site?
Yes. The credit card information you enter on our form will automatically be processed online through a thoroughly-tested and completely secure Internet credit card authorization company. It will take only a few moments for your card to be authorized. As soon as you have paid, a screen will give you instructions for downloading your electronic books. You will also have a printable receipt, showing printed books to be sent to you. Your credit card information is not stored by Energize and is not accessible to Energize at any time.
What if I do not have a credit card?
You are welcome to pay by check or Money Order (US dollars only) through postal mail.  Please recognize, however, that we cannot fulfill an order before receiving payment. When you place an order, simply select "Check" or "Purchase Order" as your payment option and an invoice will be automatically generated for you which you can print or save on your computer.
As soon as we receive your payment, we will e-mail you all electronic book download instructions and/or ship any printed books to you.
All payments must be payable to "Energize, Inc." in U.S. dollars via an International Money Order or in the form of a check payable on a U.S. bank. Electronic bank transfer information available upon request.
What if my organization requires an invoice or purchase order?
Energize is happy to accept purchase orders for books in our Online Bookstore. Or, if you prefer or must pre-pay by check via an invoice, you can do that, too. We provide the capability to automatically generate an invoice for you through our shopping cart process. Just select the "Check" or "Purchase Order" option and continue through the order process. Once you have approved your information, you will receive a link to print out an invoice. Please recognize, however, that we cannot fulfill an order before receiving payment. As soon as payment is received on the invoice generated, we will e-mail you instructions on how to obtain your electronic books and/or ship you the printed books you have bought.
What if my organization requires a purchase requisition or proforma invoice?
Energize understands that some organizations have special procedures to follow before gaining approval to order items. The easiest way to provide your accounts payable office with all necessary information is to create an order online and select "Check" or "Purchase Order." This will generate a printable, unpaid invoice with the product description with the exact total due including any necessary tax and shipping costs, instructions for sending payment, and our policy about pre-payment. Since we require pre-payment before fulfilling the order, there is no risk or obligation in generating this unpaid invoice.
Then, if your organization is required to send us a purchase order, we will add the PO# to your invoice in our system and re-submit it to your organization for payment. Alternatively, your accounting department may simply choose to send payment with the copy of the unpaid invoice that you have given them. Once we receive payment, we will ship your books or send you information for accessing your electronic materials. 
As always, if you have additional needs or questions, please e-mail us at info@energizeinc.com and we will try to help you.
How soon after I order will I get my book(s)?
Electronic books will be available for download immediately upon payment. They will remain available in your account for two weeks following your payment. 
What if I am not in the United States?
Energize is happy to serve international customers. Our electronic books are available to anyone in the world who wants to have immediate access to materials and avoid shipping costs. 
We only accept payment in U.S. dollars and a credit card (or PayPal) is the simplest way to place your order. However, you can ask to be invoiced when you start your order. All payments must be to "Energize, Inc." via an International Money Order or in the form of U.S. dollars payable through a U.S. bank. For electronic bank transfer information, e-mail info@energizeinc.com.
Electronic Books
What is an electronic book?
On our website we sell PDF files. A PDF is a file electronically published in a Portable Document Format, which can be viewed using Adobe Reader software, usually already on your computer but also available for free download from the Web. All copyright restrictions that apply to a printed book also apply to PDF files. You purchase the right to read and print out one copy only, unless you arrange and pay for additional distribution privileges.
Other advantages of PDF documents include the low cost of the material, the speed of acquiring the material, and the lower impact on our earth's resources. In addition, PDF files have been compressed in file size from their original form. Therefore, PDF files can be more easily transferred electronically than the original document and can be conveniently stored on hard drives, floppy discs, CD-ROMs, etc. Imagine the library of the future: a small shelf of books on CD, safe from water and oxygen damage.
PDF files can be read by both Windows and Mac operating systems.
How do I download an electronic book?
The final screen you will see after completing your payment will show the titles of each electronic book you have bought and a "download now" link:

Step 1:
Make sure you have the latest version of Adobe Reader.
Step 2:
Download one book at a time and save the file to your computer. (

 While download time should be short, some downloads take longer than others, depending on the size of the file, on your Internet connection, and on your computer system.)

Step 3:
Depending on what Internet Browser you use, you may be asked if you want to "Open" or "Save" your file. We suggest you choose "Save." We also suggest creating a folder just for your electronic books so you can easily find them whenever you want.
Step 4:
Repeat steps 2 and 3 for each electronic book you have ordered.
Step 5:
When you have finished saving all your files, you can open your books at any time from your computer. Just open Adobe Reader, go to "File" then "Open." Browse to the folder containing your books and open any book you want to read.
How long will it take to download?
We cannot predict how long it may take you to download an electronic file because there are many variables, including the size of the file, the type and age of your computer system, and the way in which you connect to the Internet.
Some browsers display a taskbar at the bottom of the window where you can monitor the progress of a download.
Can I download my books at another time?
You will be able to access the download buttons for two weeks after your purchase by logging into your bookstore account and selecting "Access my downloadable purchases."
What if I can't open my electronic book?
In most cases, downloading or updating the most recent version of Adobe Reader will resolve any issues with downloading and opening a PDF file. Go to http://get.adobe.com/reader/ to download the latest version.
If you still have difficulties, please call us at 1-800-395-9800 or e-mail us at info@energizeinc.com.
What if I don't have Adobe Reader?
Download Adobe Reader for free. It's quick and easy. Go to https://get.adobe.com/reader/ and you can download the program file there.
How do I get support for installing or working with Adobe Reader?
For answers to questions about downloading, installing, or configuring Adobe Reader, go to the official Adobe support page at www.adobe.com/support/products/acrreader.html.
Why am I unable to download an electronic book even though I know I have the latest version of Adobe Acrobat Reader already installed on my computer?
Some larger organizations take security measures (such as installing firewalls) which could include limiting the users' ability to download. Check with your IT department or network specialist to see a list of approved sites or to get special permission to download from our site. Don't worry though, you have access to download your electronic books through our Online Bookstore for two weeks from the date of purchase. If all else fails, access your account from a different computer off the network, download the book there, save it on a disk and bring it back to work. (Not sure how to access your account? Go to: How do I access my account?)
You may also e-mail us at info@energizeinc.com or call us at 215-438-8342 and we can attempt to e-mail you a copy of the electronic file.
Can I read electronic books on a PC or a Mac?
PDF files can be read by both Windows and Mac operating systems.
Can I print out my electronic book?
Yes. You may print out one copy of the book for your own use. Each book file opens with a "terms of use agreement" that permits a commercial printing site to make a single copy of the copyrighted file.
Can I share the electronic book with others in my organization?
You can print out the electronic book and loan the print-out just as you would loan your copy of a regular book. However, you may not make multiple copies of the electronic file nor of the printed file without purchasing the right to do so. Please see our Terms of Use for electronic books purchased from Energize.
If I have trouble downloading, will I have to pay for the book again?
No, you can return to the download page at no cost any time during the two weeks following your purchase. If your problems continue, Energize staff will be glad to assist you by e-mail (info@energizeinc.com) or phone (1-800-395-9800 in North America; (+1) 215-438-8342 from elsewhere).
Are electronic books available in other languages?
As of today, no. But we are hoping to produce translations of popular titles in the future. We welcome submissions of material in other languages already available in PDF form to review.
Have the contents of the electronic book been changed from the hardcopy?
Generally no. There may be some "tweaking" of the look of the electronic document to adjust for page sizes and other formatting issues. If the electronic book is a revision of an older title, that will be stated in the product description on the site.
Still have more questions? E-mail us