Just got home from St. Paul, MN where 500+ colleagues from more than 30 states and four countries spent three jam-packed days raising our collective spirits and talking about strategies for the future of the volunteer management profession at the 2017 National Summit on Volunteer Engagement Leadership. I came to the conference with cautious hope and am thrilled to report that I left with enthusiastic optimism.
Clearly the deadline for this Hot Topic (always posted on the first of the month) has left me with little time to digest everything that I saw and heard, but I very much want to share my impressions and initial thoughts. Consider this a personal debrief – and I welcome any readers who also attended the Summit to post your reactions as well. Undoubtedly I will return to some of these ideas in more depth again, but here are some of the highlights for me.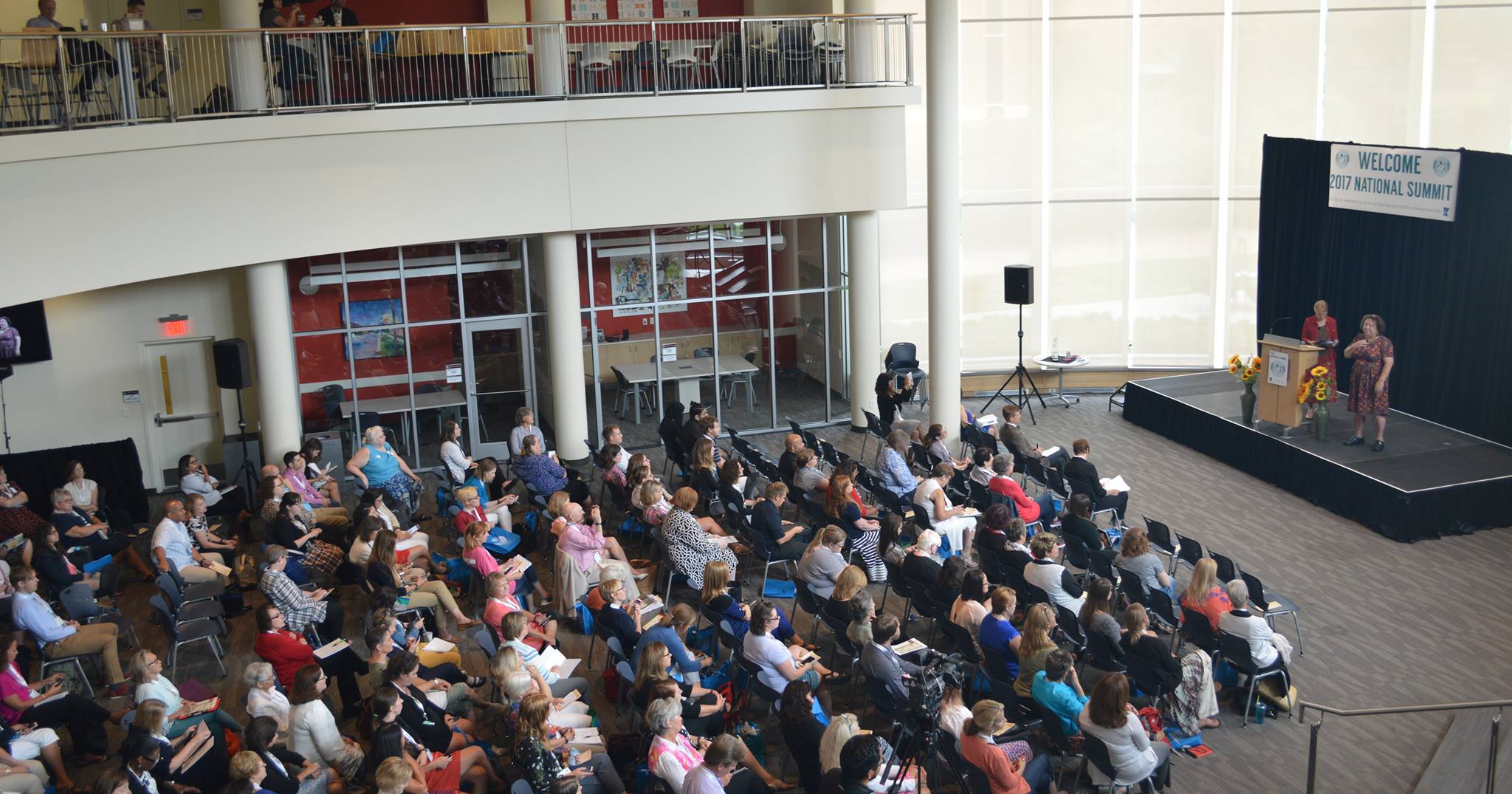 Coming Home
It has been 10 years since we had a national event designed exclusively for people whose work centers on engaging volunteers. At one time we relied on what was the Association for Volunteer Administration (AVA) for such an annual gathering, but when AVA died, so did the conference. The few other conferences available have increasingly pushed volunteer management into a somewhat isolated "track," while corporate social engagement, full-time service such as AmeriCorps, and courting of elected officials have politicized (and monetized) much of the focus.
Veterans in our field who came to the Summit almost unanimously expressed sentiments such as "Wow, the warm, enthusiastic tone here is something I haven't felt since AVA!" I agree. We have missed this feeling and want to re-integrate it into our professional lives.
The staff and members of the Minnesota Association for Volunteer Administration (MAVA) hosted the event superbly (HUGE thanks!), with a corps of colleagues from around the country volunteering their time over the last 18 months to make it happen (full disclosure: I was one of them). So we proved that we can still produce this sort of event simply because we want to and are willing to put in the time. That said, we are also grateful to some generous and engaged funders who were convinced – under the leadership of Jane Leighty Justis and Betty Stallings – not only to give money but also to come to the Summit and participate fully. Bravo!
We See the Future and It Is Us
If you look back at my Hot Topics over the past few years, you'll realize my frustration and sadness at the deterioration of what we refer to as the "infrastructure" of volunteerism in the United States and also in several countries around the world who used to be key resources for us all. National bodies representing volunteer engagement were defunded and weakened, while many volunteer centers and local networks of volunteer administrators shut down or are on life support.
To be clear: I have never been the least bit worried about the health of volunteering. While I am totally dedicated to the belief that competent leaders of volunteers are crucial to supporting volunteers to accomplish more things strategically, especially within formal organizations, the sobering fact is that volunteers don't need us to get many things done. It's the synergy of volunteers and effective leadership that works miracles.
Those of us with many years of experience – and, yes, I am definitely in that "old fogey" category! – have somewhat despaired at the dismantling of professional networks and in-person platforms for collaboration. Several months ago, Greg Baldwin, president of VolunteerMatch, said to me in a phone call, "Susan, it doesn't matter what happens at the Summit, as long as the right people come to it." Hooray!!! He was right.
We saw extraordinary new, younger talent surface in St. Paul last week (some of whom are mentioned below and I will report over time about others). The Old Guard can finally relax and cede our efforts to a wonderful New Guard. Smart, bright, diverse professionals with many backgrounds. And most important, they proved willing to speak up and out – and to offer their energy to the cause. Thank you to those who attended the Summit – and encouragement to the others out there who will rise to the surface if we continue to provide opportunities to gather together and get acquainted.
Bloggers Rule!
One of my personal objectives for this event was to finally meet in person the many great bloggers who have stuck their necks out to post their thoughts and teachings about volunteer management on the Web. So we scheduled a pre-conference "affinity group" meeting for current bloggers and it was wonderful! About 20 of us met for three whole hours, with Jayne Cravens (Jayne Cravens Blog) and Carolyn Appleton (Carolyn's Nonprofit Blog) joining for the entire time remotely via Google Hangouts. Here's a shot that Jayne took of us from her screen at home(!), l to r, front to back: Lucas Meijs, Elisa Kosarin (Twenty Hats), Meridian Swift (volunteerplaintalk ), Liza Dyer (Volunteer Management Snark), Susie Reehl, Kylah Martin (@wherechangestays), Albert Arevelo (@BertWheresErnie), Jennifer Weichel, Rob Jackson (Rob Jackson Blog and Third Sector UK Voice of Volunteering blog, me, Marla Benson (Volunteer Relations), Erin Spink (spinktank),  and Mary Anne Casey (Retire For Good).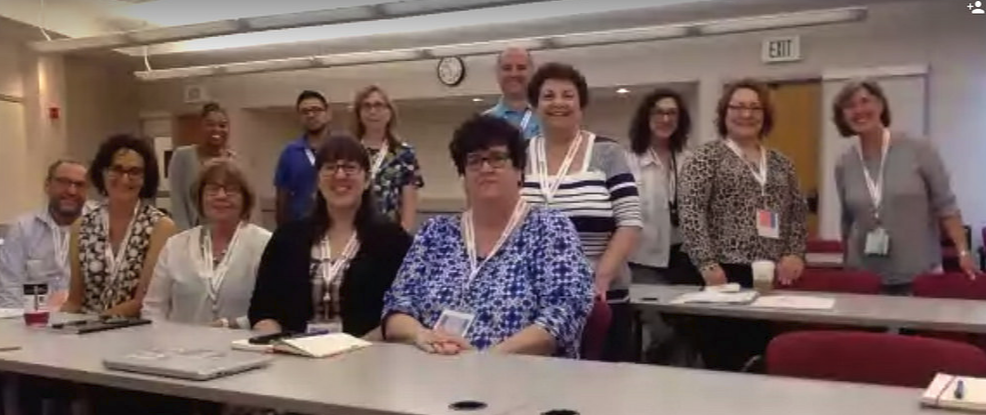 Everyone immediately clicked (no pun intended), and we left the room with plans to create a LinkedIn group for further discussion, explore forming a volunteerism blog "ring," find ways to join forces on special news and issues confronting the field, and more. Stay tuned!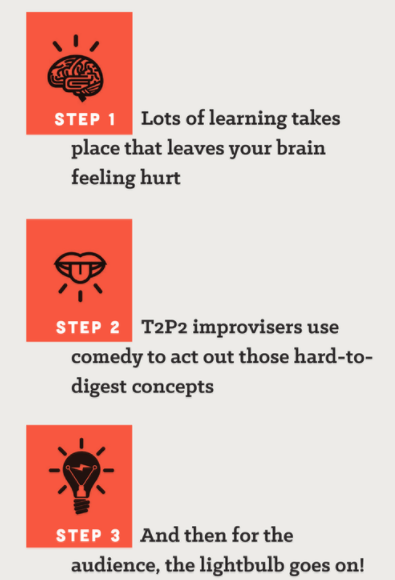 T2P2's summary of what they do in conferences (
www.t2p2.net
)
Laughter Is the Best
The Summit planning team felt strongly that the plenary sessions should not follow the yawn-inducing pattern of keynote speakers, especially not a politician or a popular celebrity. Thanks to Katie Campbell and her team, we were treated to the  hilarious contributions of The Theater of Public Policy (T2P2), which serendipitously hail from Minneapolis. I heartily recommend them to all conference planners out there! T2P2 is an improvisation troupe of young, personable actors who (as their diagram to the right explains), listen to the real conference presenters and audience and then – on the spot – create a series of satirical skits that illuminate what they heard. Outsiders reflecting the groups issues. And making our sides hurt with screaming laughter. Check out this excerpt from one of their Summit skits posted to Facebook: https://www.facebook.com/NtlSummit/videos/668482833348559/
Moving Forward
The Summit ended at 2:00 p.m. on Friday, but participants had all been invited to reconvene an hour later for a more intense strategy planning session for what might keep the momentum of the Summit moving forward. About 75 colleagues fought the fatigue of long conference days, rolled up their sleeves, and spent two hours debating next steps. Common ground: We simply must keep moving forward and harness the incredible enthusiasm and optimism of the Summit.
Others will report what was said and suggested at this meeting (and I'll be sure to link this Hot Topic to that report when it's available), but for me there were two big take-aways:
Continue with More Conferences
We committed to holding regular conferences like this Summit, at least every other year, with a "backbone" coordinating body but sharing hosting/organizing responsibility with existing strong state associations and local professional associations in different locations.
Dramatically Grow AL!VE
This is do-or-die time for AL!VE, the Association of Leaders in Volunteer Engagement. It has struggled up to now to take root, but its leaders came to the Summit with the clear goal of being an important part of what might come next. The current president was a key Summit planner, the incoming president and several board members attended the entire event, and many AL!VE present and past members were in the room for this post-Summit strategy session.
By the close of the strategy session, it was decided that AL!VE will spend the next three months coordinating and convening several task forces formed to continue working on ideas raised. There was also consensus that we want to grow the membership so that volunteer management professionals truly have a voice backed by the clout of numbers.

So…I immediately rejoined AL!VE as a member and am urging every American reader of this Hot Topic to do so, too. Individual membership is only $50 and there are also group options. Join here. (To our colleagues outside the United States – go find your professional association and join it, too!)
Be a part of determining the future of our profession. Join to show support. Be counted. Keep informed. Participate. Volunteer. The first step, even if you do nothing else, is to JOIN.
A Few Final Random Notes
Bravo for showing technical competence! The Summit created a great cellphone app that was very powerful. It contained the entire schedule (with room locations, handouts to download, and instant evaluations), the conference attendee list, and even a way to do polling in the plenary sessions with real-time responses projected for all to see.
 

The "funders" track brought together foundation leaders and major donors with practitioners –- and they really talked with each other! In preparation, The Leighty Foundation has created a Web site dedicated to educating funders on "Why Invest in Volunteer Engagement?" Download The Funder's Guide to Investing in Volunteer Engagement, the Foundation's new, free booklet that I hope we all share widely. Thank you, Jane!

My favorite quote of the Summit came from Liza Dyer who remarked, "Criticism is a form of collaboration." We need voices, not silence.
 
If you attended the Summit, please share your reflections.
If you could not attend, do you have a reaction to anything here?
Receive an update when the next "News and Tips" is posted!